Animation studio, salamandra.uk, are hanging on the edge of their seats as CEO, Christine MacKay, is shortlisted for the Creative Industries Entrepreneur of the Year. Nominated by the renowned Supper Club, Christine has been selected from just under 5000 exemplary entrepreneurs in the Regional Finals of the Great British Entrepreneur Awards which recognises Christine as a leading entrepreneur in the creative industry.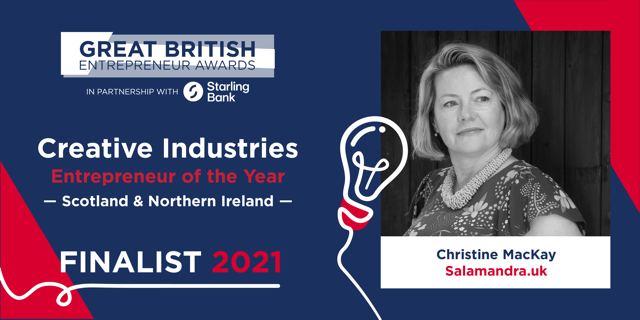 Founded in 2012, the Great British Entrepreneur Awards acknowledges the hard work and inspiring stories of entrepreneurs and businesses in the United Kingdom.
"What marks these awards out is the way they've fostered such an impressive, supportive community of people. And that's never been more important than right now."

Rishi Sunak MP, Chancellor of the Exchequer
The Awards have celebrated some outstanding entrepreneurs who have gone on to become household names. Previous winners include the founders of Grenade, Tangle Teezer, The LAD Bible, Clearscore & The Cambridge Satchel Company.
Rishi Sunak MP, Chancellor of the Exchequer
Central to the ethos of the Great British Entrepreneur Awards is being more than just an awards ceremony. It's a community; a thriving ecosystem of support all year round and provision of support and opportunities for winners and finalists to connect and showcase their business, helping them to stand out from the crowd.
This is an ethos that Chrsitine also lives and breathes as a self-confessed cross pollinator of business and serial networker. "Connecting and collaborating with other business owners and networks is not just one of the most effective ways to thrive in adverse times but it's also a great way to contribute to the industries and communities that you love and want to see flourish".
Founder of the Great British Entrepreneur Awards, Francesca James, said, "Creating the shortlist out of so many wonderful applications was incredibly tough, so I don't envy the judges who will now decide the regional winners. Everyone who has been shortlisted should be incredibly proud and we're thrilled to be able to showcase their achievements."
Finalists for the Great British Entrepreneur Awards are eagerly awaiting the result which will be announced in September.