DNEG, a leading technology-enabled visual effects (VFX) and animation studio for the creation of feature film, television and multiplatform content, received seven Visual Effects Society (VES) Awards at the 20th Annual VES Awards which took place at the Beverly Hilton Hotel in Los Angeles.
Four of DNEG's seven awards honored DNEG's VFX work on Denis Villeneuve's Dune, including the main award for "Outstanding Visual Effects in a Photoreal Feature," which was presented by Villeneuve himself. DNEG also received two awards for its work on the Apple TV+ drama "Foundation," as well as the award for "Outstanding Supporting Visual Effects in a Photoreal Feature" for DNEG's VFX work on Edgar Wright's Last Night in Soho.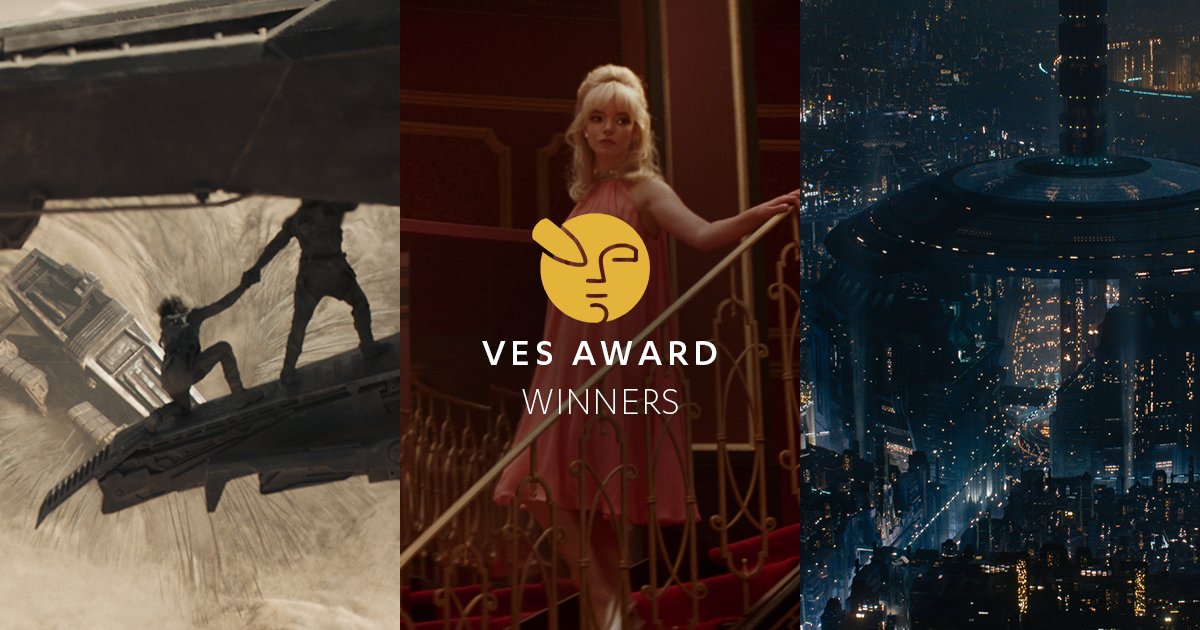 DNEG's dominant and expansive awards haul on the evening provides further evidence of the company's leading capabilities in the visual effects and animation industries. This year's extraordinary levels of success and the recognition of the Visual Effects Society add to DNEG's impressive list of recent and historical accolades. This year's seven VES awards bring DNEG's all-time total to 18.
"Thank you to the Visual Effects Society for honoring the incredible work of our teams and congratulations to all of our winners, collaborators, global teams and clients on this epic achievement. It is important to note that these projects were all in production during the pandemic. Despite the challenges of finding new ways of working in this incredibly difficult time for the world, DNEG has produced work of a quality that has been recognized as outstanding by the VES – an industry body that provides a detailed and comprehensive gauge of the technology and artistry that makes this work so special. This, alongside the unprecedented number of awards that we won last night, is a massive testament to the capabilities of our teams, and the trust of our customers that DNEG will always deliver their vision to the highest possible standard. It is also a huge validation of DNEG's ambitious growth plans as we go from strength-to-strength, scaling our business, and delivering great results across all of our global teams.   

Namit Malhotra, DNEG Chairman and CEO
DNEG's complete 2022 Visual Effects Society Award winners are:
Outstanding Visual Effects in a Photoreal Feature
[WINNER] Dune – Paul Lambert, Brice Parker, Tristan Myles, Brian Connor, Gerd Nefzer
Outstanding Supporting Visual Effects in a Photoreal Feature
[WINNER] Last Night in Soho – Tom Proctor, Gavin Gregory, Julian Gnass, Fabricio Baessa
Outstanding Visual Effects in a Photoreal Episode
[WINNER] Foundation; The Emperors Peace – Chris MacLean, Addie Manis, Mike Enriquez, Chris Keller, Paul Byrne
Outstanding Model in a Photoreal or Animated Project
[WINNER] Dune; Royal Ornithopter – Marc Austin, Anna Yamazoe, Michael Chang, Rachael Dunk
Outstanding Effects Simulations in a Photoreal Feature
[WINNER] Dune; Dunes of Arakis – Gero Grimm, Ivan Larinin, Hideki Okano, Zuny An
Outstanding Effects Simulation in an Episode, Commercial, or Real-Time Project
[WINNER] Foundation; Collapse of the Galactic Empire – Giovanni Casadei, Mikel Zuloaga, Steven Moor, Louis Manjarres
Outstanding Compositing & Lighting in a Feature
[WINNER] Dune; Attack on Arrakeen – Gregory Haas, Francesco Dell'Anna, Abhishek Chaturvedi, Cleve Zhu
DNEG served as lead VFX partner on each of the above projects, with work completed throughout its worldwide studios.
DNEG's VFX work on Dune and No Time to Die has alsoearned two Academy Awards® nominations for Best Visual Effects this year, and its VFX work on Dune, Ghostbusters: Afterlife, The Matrix Resurrections and No Time To Die has earned four BAFTA nominations in the Special Visual Effects category.
Prior to 2022, DNEG has won six BAFTA awards, 11 VES awards and three Primetime EMMY® awards, as well as six total Academy Awards®, including five of the last seven, for Tenet (2021), First Man (2019), Blade Runner 2049 (2018), Ex Machina (2016), Interstellar (2015) and Inception (2011).
On January 25, 2022, DNEG announced its entry into a definitive business combination agreement with Sports Ventures Acquisition Corp. (Nasdaq: AKIC). Upon the closing of the business combination, which is expected in the first half of 2022, the combined public company will be named DNEG. For more information about the transaction, please visit https://investors.dneg.com/.