The UK is renowned for the quality of its highly educated and trained workforce and its nurturing of top animation talent.
The UK animation industry employs a highly skilled workforce of c.1000 people. This rises to 15,390 jobs supported in the wider value chain once spill-over benefits are factored in.
Existing research does not include the wider deployment and employment of animation roles within other related sectors such as Games, VFX or wider creative sectors, however recent NESTA research based on an analysis of 412 million job adverts cites Animation as the number one digital skill required.
New research is being planned to capture the application of animation skills across related and wider sectors.
52% of the workforce are freelance, and approximately 25% are non-EU in the sector.
Inclusion & Diversity
In September 2019, the UK Screen Alliance in conjunction with Animation UK and Access VFX published a major report into inclusion and diversity in the UK's VFX, animation and post-production sectors.
The report surveyed of more than 1,150 workers across the sectors, and revealed that in the UK animation industry, gender diversity achieves parity in animation with 51% of workers being women. In production management, women make up 89% of the workforce. Women are well represented in senior creative production roles (55%) and creative artist roles (49%). However only 14% of technical support roles are held by women.
21.5% of animation workers identified as LGB+, more than 10 times the ratio in the UK population. 3% specified their gender as either transgender, non-binary or some other preferred description.
The jobs in animation are more geographically dispersed than VFX or post-production with 27% of our respondents working outside London.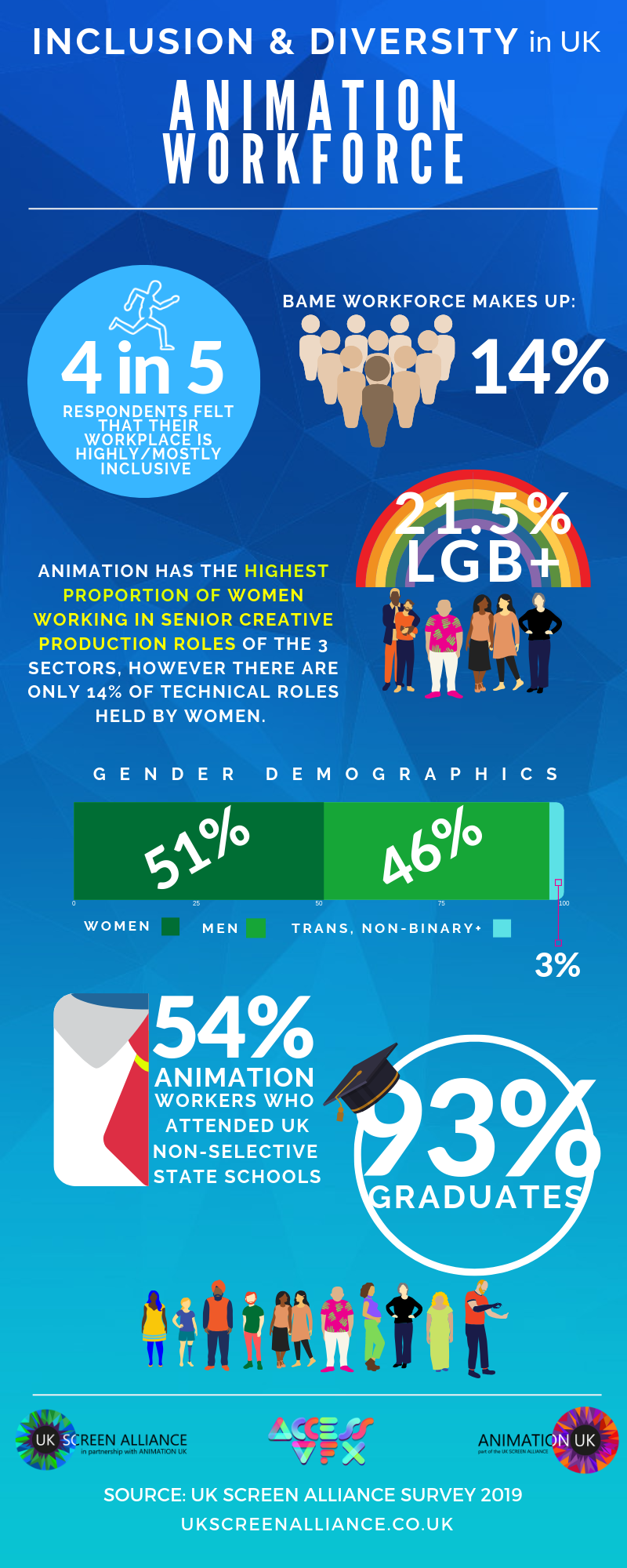 Highly qualified workforce
The animation workforce is highly qualified with 93% of workers having a degree and 26% also being post-graduates. For almost half of animation workers, neither of their parents obtained a degree.
9% of animation workers from the UK were educated at a private or fee-paying school. This is above the UK average of 7%. However, 54% of animation workers educated in the UK attended non-selective state secondary schools.
People working in the UK animation industry not only have a much higher level of qualification than the population at large, but also higher than the creative industries as a whole. 41% have an undergraduate degree, certificate or diploma, and a further 28% a postgraduate qualification.
The UK animation industry is well-supported by over 50 animation degree courses, accommodating nearly 2,400 students, as well as more than 230 higher education courses.
New Apprenticeships are being developed to complement the university degree pathways.
Top UK animation talent is celebrated at the biannual British Animation Awards, which covers all aspects of the UK animation scene, including student work, commercials, children's entertainment, short and experimental art films, music videos and new technologies.
Animation UK has now been formed to provide a unified voice for the Animation Sector and will support the sector by developing a talent and skills plan to further develop the sector workforce.