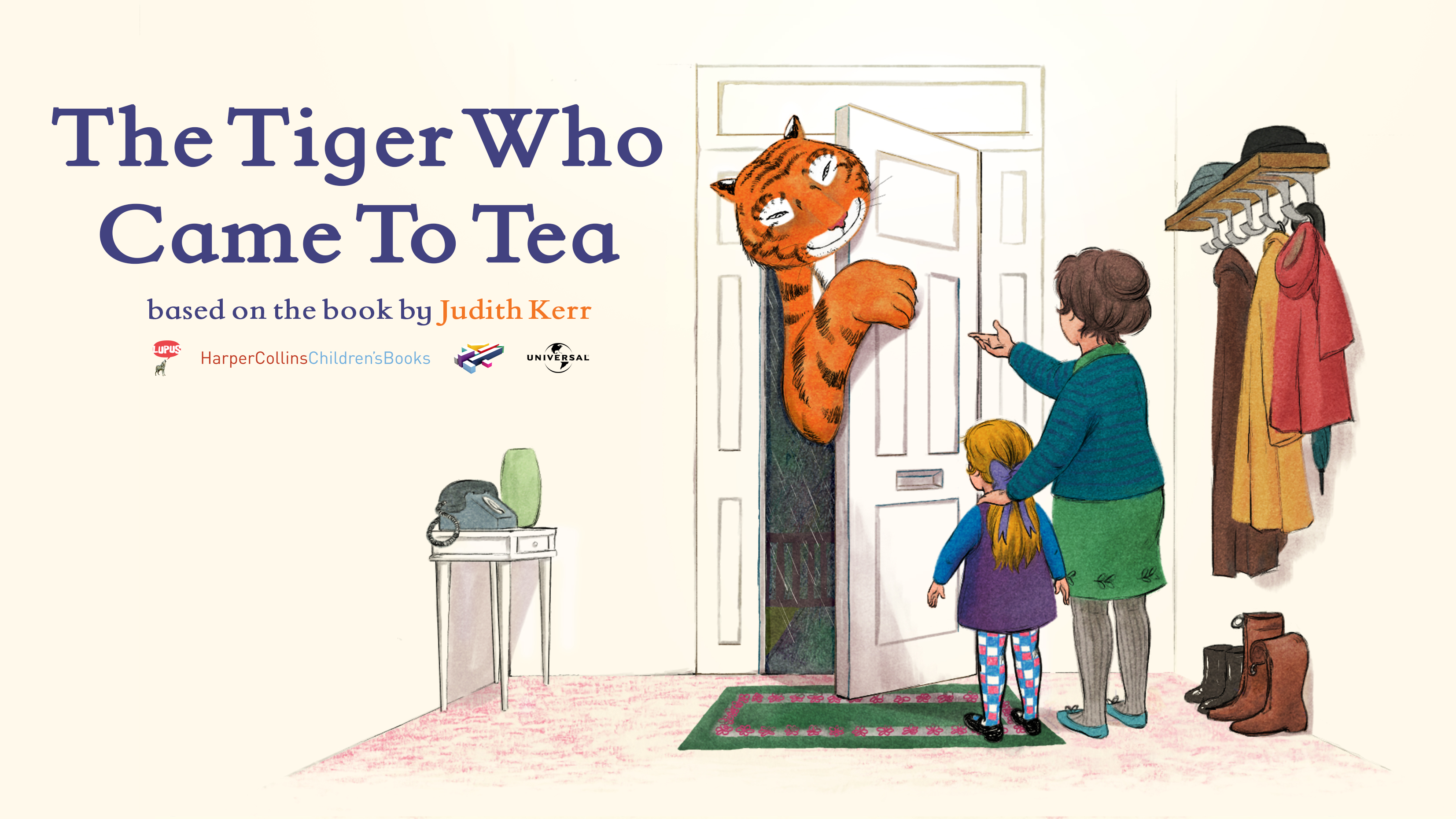 The Tiger Who Came to Tea, written by Judith Kerr and published by HarperCollins Children's Books, will be known well by parents and children across the nation, having sold over 5 million copies since it was first published in 1968. The tea-drinking tiger, has delighted generations of children and parents in the much-loved picture book by Judith Kerr, OBE, who celebrated her 95th Birthday last June.
Channel 4 has commissioned a new hand-drawn animated special, produced by Lupus Films and HarperCollins, of The Tiger Who Came to Tea, which celebrated its 50th anniversary last year.
The 30-minute special will air over the Christmas season in 2019 on Channel 4, whose last festive children's classic, We're Going on a Bear Hunt, was also produced by Lupus Films, and became the Channel's most watched programme of 2016 with over 8 million viewers.
The Tiger Who Came to Tea was commissioned by Caroline Hollick the Channel 4 Head of Drama, and Chloe Tucker, Channel 4 Commissioning Executive of Drama, who said: "We are delighted to bring Judith Kerr's iconic and much-loved children's book to our screens. The Tiger Who Came to Tea is a timeless classic, and we hope this film will capture the same special place in every family's imagination watching it. "
"This will be real a Christmas treat, created by the wonderful Lupus Films, who created We're Going on a Bear Hunt for us and whose hand-drawn animation is perfect for bringing classic children's books to life." said Tucker.
The special is being produced by Lupus Films' founders Camilla Deakin and Ruth Fielding together with Ann-Janine Murtagh, Katie Fulford and Mia Jupp at HarperCollins Children's Books, and directed by Robin Shaw (Co-Director We're Going on a Bear Hunt, Assistant Director The Snowman and The Snowdog).
Ruth Fielding, producer and co-founder of Lupus Films said: "We are delighted to be creating a new animated film for Channel 4 using our unique hand-drawn style. This timeless tale, with huge cross generational appeal, is the perfect literary classic to adapt for a seasonal special when the whole family can come together to watch it. We cannot wait to bring Judith's delightful illustrations to life in animation and have assembled an exceptional team to do so".
The new animated special will see a the work of a talented team of artists bring to life Judith Kerr's vivid illustrations in Lupus Films' distinctive, hand-drawn animated style.