Second Home Studios has been based in Digbeth since 2004 creating award-winning animations for the likes of CiTV, Sony, Channel 4 and Nexus Studios.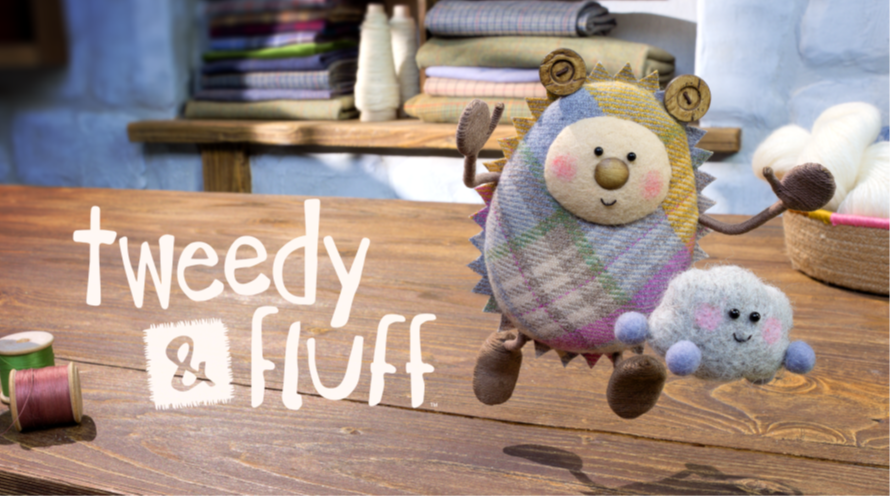 Now, in another first for Birmingham, they are mid-production on a brand new stop-motion animated series for Channel 5's Milkshake! which airs on 16 October.
To date stop-motion series animation has been largely in Manchester or Bristol. This is the first show of its kind to be made in the city, where its creator and director formerly worked together on Gas Street in the days of Central Television.
Tweedy & Fluff, created by award winning children's author and TV producer, Corrinne Averiss, is about two adorable little woollen creatures who live in a weaver's cottage. Tweedy is a little fabric plush, regretfully living alone in the nooks and crannies of the cottage until the space in his heart is filled with the arrival of Fluff, a fizzing ball of energy who becomes his pet. The show celebrates the universal instinct to nurture, understand and care for someone
smaller than yourself.
The series is narrated with warmth and wit by the British actress and comedian, Nina Wadia OBE. She is known for portraying Zainab Masood in the BBC soap opera EastEnders, Aunty Noor in Citizen Khan, Mrs Hussein in Still Open All Hours and for starring in BBC2 sketch show, Goodness Gracious Me.
This series has been a labour of love for the best part of eight years as we developed and sought funding for the show. Now here we are – mid-production – in this bespoke new studio facility with puppet-makers, prop-makers, studio crew, VFX and of course our talented animators working full tilt to create some truly beautiful
moments for children to enjoy.

Chris Randall, Founder of Second Home Studios and Series Director
Second Home Studios houses an incredible team of specialist craftspeople. Tweedy & Fluff is a series that requires an appreciation for the tactile beauty of the little items that humans discard or forget; cherishing the quirky detail of Tweedy's curated world. This was already the M.O. at Second Home so Tweedy & Fluff could not have been in safer hands. I will never forget the joy of seeing the first puppets emerging from a box in the boot of Chris's car! Pure magic.

Corrinne Averiss, Creator of Tweedy & Fluff
For a small team, Second Home Studios has punched above their weight in recent years, producing BAFTA-winning animated content for children's television along with plaudits from the Royal Television Society and the British Animation Awards for some of their commercial and branded content origination.
To accommodate the needs of producing 40 x 5" episodes, the company took over an old, locally listed warehouse in Digbeth which is among the last of its kind, as new swathes of redevelopment transform the area. The studio conversion has enabled a shooting space for up to 25 model stages, workshops and post-production facilities. The studio and its dedicated specialist team are open to new collaborations.
Tweedy & Fluff is supported by the BFI Young Audience's Fund and is on air on Channel 5, Milkshake! weekdays from 16 October at 6:45pm and will follow on BBC Alba in Scotland, S4C in Wales and TG4 in Ireland three months later.
Watch the trailer below.