The new studio in Brixton bolsters Jellyfish Pictures' capacity to 350 increasing staff numbers by 40%.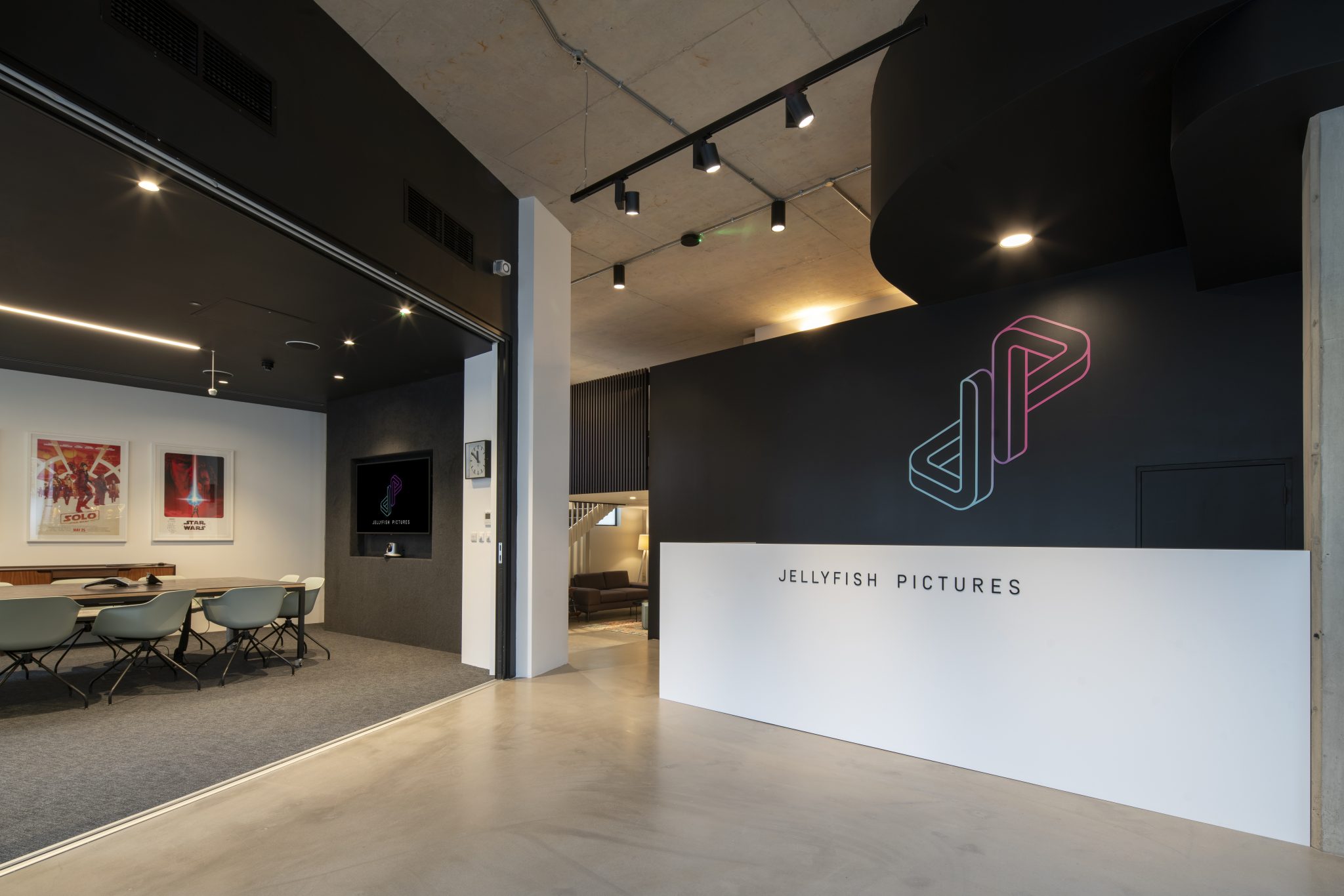 Bafta and multi-award winning VFX and animation studio, Jellyfish Pictures, have announced that it has opened its newest state of the art facility in South London, Brixton.
The new studio seats 200 artists and, in addition to its other four studios spread across South London and Sheffield, will be the company's official headquarters. In line with the extensive expansion, Jellyfish Pictures has removed all onsite IT infrastructure from its existing sites and moved everything to a co-location, resulting in the facility becoming wholly virtual, the largest VFX and animation studio working this way in the world.
The new studio is designed to promote collaborative working and creative exploration. Spread across one floor, the studio sprawls a total of 100 meters with over a third of the facility dedicated to staff breakout areas, meeting rooms, plush client areas and a state-of-the-art screening room boasting a 4K projector and Dolby Atmos sound.
Designed with both the artist and client in mind, the company has invested heavily in onsite technology to become a truly global workspace. All meeting rooms have been equipped with the latest Crestron/Extron display systems allowing users to access a dual network enabling smooth video conferencing experiences in a TPN (Trusted Partner Network) environment, something which previously had been difficult.
New facility in Brixton – Image courtesy of Jellyfish Pictures.
"Jellyfish Pictures is a wonderful melting pot of cultures and creatives so it was important to me I delivered a space where our talent could thrive. Something that couldn't be achieved in Soho, the new space spreads across one long 100 meter floor, encouraging everyone to share tips, ideas and collaborate. We also wanted to use the technology out there to make lives easier so there is more time for creative endeavours."

Phil Dobree, CEO, Jellyfish Pictures
With no hardware housed onsite, across any of the five Jellyfish Pictures' sites, all studios operate in a completely PC over IP environment. All technology and pipeline are housed in a centrally based co-location, with all distributed workstations being virtualised through Teradici's remote visualisation solution. Allowing for total flexibility and scalability, if required, more computers can be deployed in the data-centre or in the cloud by spinning up a virtual machine (VM).
"We have a visionary CTO in Jeremy Smith, and we were determined to carry on our drive into the cloud, furthering the evolution of our move into virtualisation we started with our Oval studio 3 years ago. Moving out of Soho gave us the chance to get rid of all our remaining on-premise infrastructure and move fully virtual, taking our existing Brixton studio with us. 2019 has been a revolutionary year for Jellyfish, which has included a new brand identity, moving out of Soho, overhauling our IT infrastructure… even living up to our namesake and installing a Jellyfish tank, and we don't plan on slowing down for 2020."

Phil Dobree, CEO, Jellyfish Pictures
Being a TPN certified studio, the new set up is completely secure, utilising Pixit Media's PixStor multi-tenancy container services for audit-compliant secure data separation and isolation.
Visit jellyfishpictures.co.uk/ for more information on Jellyfish Pictures.