Following their work on last year's Christmas commercial for Smyths, Freefolk have created a lively and action-packed commercial for Hasbro Gaming and Smyths Toys.
In the ad, directed by Freefolk's Jason Watts for McCann Manchester, an animated character the size of a board game piece progresses through four game worlds: Guess Who, Monopoly, Hungry Hungry Hippos and Ka-Blab!
With Watts also working as VFX Supervisor on the project, Freefolk's Head of Colour, Paul Harrison worked his magic on the grade with Laura Ricketts as VFX Producer and CG Supervisor Harin Harani.
We wanted to create a seamless, fun journey that Oscar could go through in thirty seconds progressing into a new game environment in each section. This had to be optimised so that you had game value at the same time as being able to reveal the game in its entirety, and making it a fun continuous journey that Oscar could go on and progress with the audience. As we were creating the scenarios we had to adapt and make changes when certain games became available in different territories, adapting the story and journey Oscar takes with each development.

Jason Watts, Freefolk
The project was three months in the making, with most of that time spent on animation. All of the comp work was created in Nuke and the VFX editing and management were in Nuke Studio, allowing the team to use dynamic timelines which can easily be updated as soon as a render has been completed. This makes it a simple streamlined process from start to finish. Updates were published to Ftrack on a daily basis so the whole team was kept in the loop.
Freefolk allows everyone the choice to work either from home or in the office.
Or amazing pipeline team makes this incredibly easy with seamless connections no matter where you are, never impacting the great work that we produce. From a compositing perspective, we really wanted to keep the energy going throughout the ad, using dynamic changes in depth to build upon the action and keep the spotlight on Oscar as he hurdles his way through the different gaming worlds. We also used the 3D camera setups in 2D to enhance the skies and backgrounds and add our own adjustments to the transitions between scenes. Luckily our 3D team did such a wonderful job with the modeling, textures, and the final renders it makes everything that much easier in the comp, allowing us to focus more on the finer details balancing the grades, and adding in filmic effects to give it that real extra polish at the end. Both the 2D and 3D teams were in constant contact with each other throughout so if we ever felt that we were missing something important in our multipass renders we could simply update them.

Rob Sheridan, Nuke Artist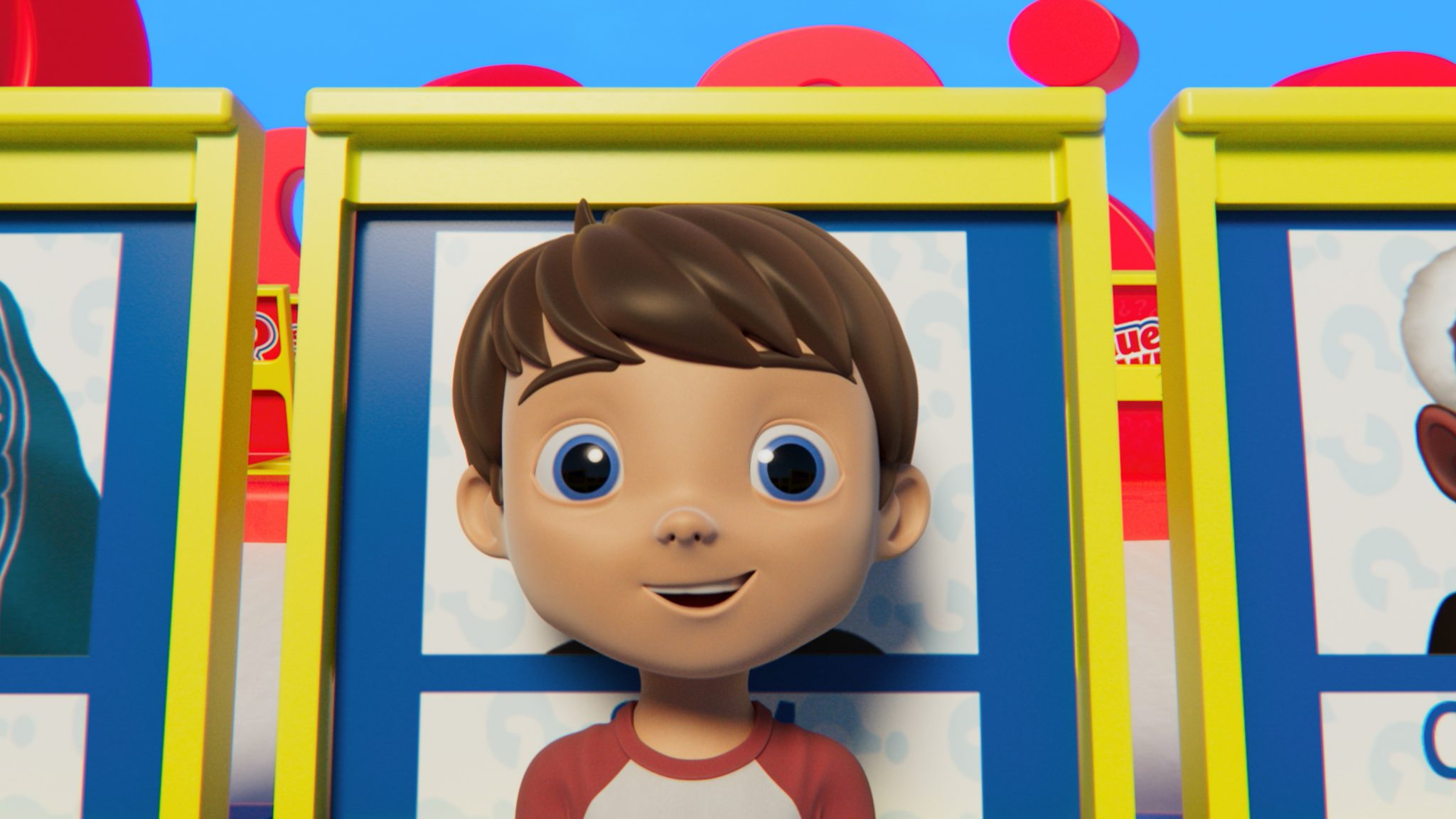 The sequence immerses the main character in four different game worlds, and each piece had to be animated. 3D Supervisor Harin Hirani explains how they handled this complexity:
We had a lot of game pieces and cards to handle so we developed a few auto riggers to drastically speed up the process, this also meant that animation had consistent rigs to work with.

To keep shading dynamic at all times we implemented a switch based shading network that's driven by custom attributes. Using a custom controller with UI meant that we could switch a card's texture in seconds at any stage in the pipeline.

For layout we adopted a MASH network workflow which allowed us to adjust the environments within minutes. MASH combined with falloff objects gave us fine control over placement, scale and rotation. This was very handy for forcing perspective in certain shots.

To accommodate the variety of custom attributes required by these setups we were required to further expand our caching pipeline.

Harin Hirani, 3D Supervisor
The biggest challenges of the project were creating the dynamic shading setups which required custom data which didn't fit into the caching pipeline natively, and creating environments that could be controlled on both a large and small scale procedurally or by hand.
Parts of the project were particularly resource-intensive.
"We had some very long render times for the hungry hippo sequences despite large amounts of optimisations on the sampling side. This was purely down to the complexity of the shading/lighting with the only solution being more render power or sacrificing quality," said Hirani.