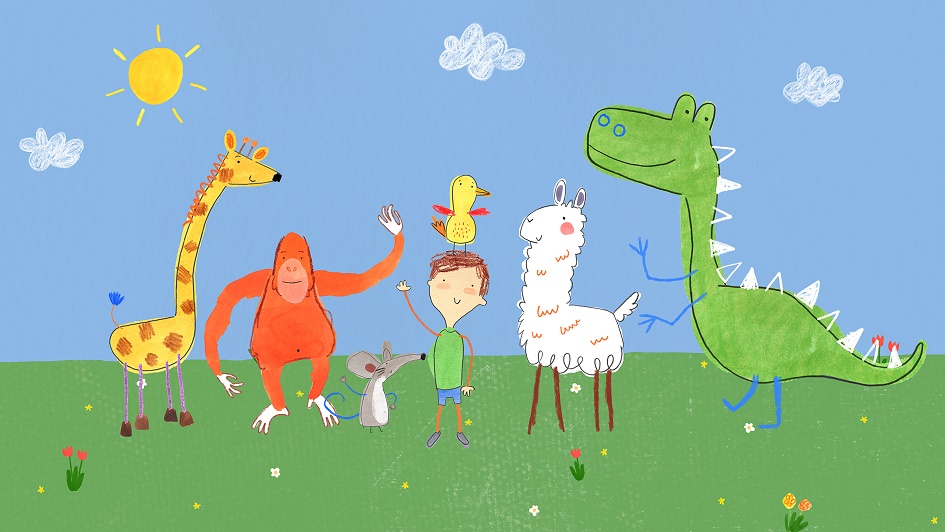 Leading kids' entertainment specialist CAKE, has signed a number of deals for ground-breaking pre-school animated series Pablo.
Key broadcasters include TVE Spain, RTP Portugal, Czech TV, NRK Norway, TV Brazil and RTS Switzerland as well as Netflix, who launched the series in multiple territories this year. Series 2, which is set to launch on 7 October 2019 on CBeebies and on RTE Junior has also been acquired by Nat Geo Kids Latin America, ABC Australia and Majid TV. The second series brings the total number of 11 minute episodes to 104.
Following in 2020, the first of four Penguin ladybird books will be released in April and a Pablo Musical Theatre Show is planned for October 2020.
Pablo features a smart and artistic little boy, whose imaginative drawings come to life enabling him to face the Real World with confidence. Pablo is 5½ and on the autism spectrum. Using his magic crayons, Pablo bravely turns his life challenges into fantastic adventures and his feelings into colourful characters with a voice. With the help of his Art World friends, Llama, Noa, Mouse, Draff, Tang and Wren, Pablo is better able to make sense of his 5½ year old world.
Pablo is the first ever children's series to feature an autistic central character. Each story reflects the real-life experiences of children with autism and has been devised, co-written and voiced by young autistic talent.
Pablo is produced by Paper Owl Films for CBeebies and RTÉJr., in association with Kavaleer Productions and Ingenious with funding from Northern Ireland Screen and BAI.
"We are very proud to be part of Pablo and thrilled with the response the series has received. The feedback from broadcasters as well as viewers has been tremendous and extremely positive. We hope that through Pablo, we are raising awareness as well as introducing content that is relevant to today's young audiences."

Ed Galton, CCO & Managing Director at CAKE and Exec Producer on Pablo
"Pablo has become a firm favourite in the hearts and minds of all kids across the world. We couldn't be prouder of the real-world impact our animation has made and the Pablo team, has been working incredibly hard over the last two years to create a follow-up series that is even more universally entertaining and meaningful as the last.

Now that we are at the periphery of the Pablo brand becoming much more than a TV show and an entire kids' franchise, it's more important than ever that we continue to appeal to all families. We want our show to be fun and charming so all kids fall in love with our hero, Pablo, and feel inspired by his incredible adventures and the way people on the autism spectrum experience the world around us."

The creator of Pablo, Grainne McGuinness