Animation UK is delighted to support a new digital pitch designed by C21 and to announce that entries are now open.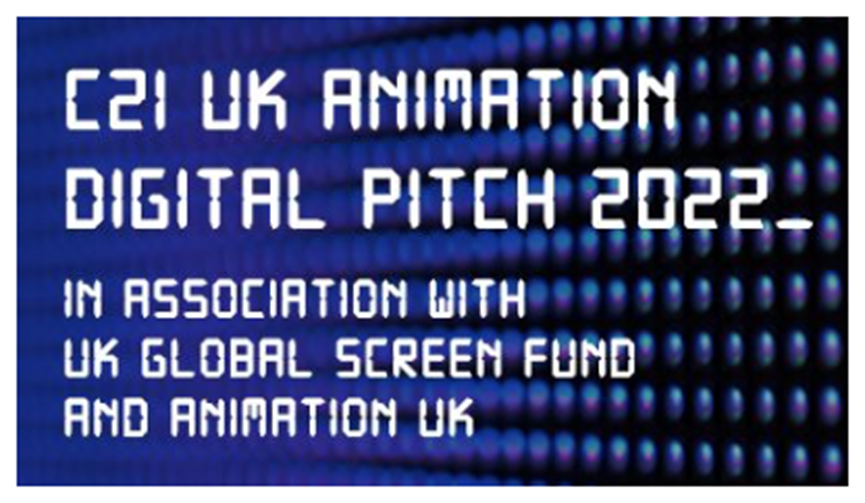 C21 UK Animation Digital Pitch 2022 in association with UK Global Screen Fund and Animation UK will allow kids' animation creators to connect the best new ideas with the international content community, vital at a time when the opportunities to pitch to internal buyers are fewer and our ideas and content needs more exposure.
The announcement coincides with this year's Children's Media Conference and a sense of optimism and buoyancy in the industry and increased international investment in our companies.
Animation UK is absolutely delighted to be partnering with C21 and the BFI on this exciting new development. We have a globally recognised animation sector, known for its creative excellence, storytelling, iconic characters, humour and inventiveness. The UK Animation Digital pitch provides another way, at just the right time, to showcase our content and ensure it is in front of the buyers and commissioners international we hope this will the first in a series of pitching opportunities to showcase our animation content aimed at wide demographics. 

Kate O'Connor, Executive Chair, Animation UK
The partnership with UK Global Screen Fund and Animation UK allows UK kids animation producers to present their projects through C21's Digital Pitch Platform to the world's leading kids buyers. These pitches also are exposed to C21's community of more than 200,000 international entertainment executives around the world, to amplify exposure to the biggest community in television.
As the UK screen sector adapts to the collective challenges of recent years, it is vital to support independent screen businesses in reaching their potential in the global marketplace. The UK Global Screen Fund is proud to partner with C21 and Animation UK on this important initiative, which provides a unique opportunity for our talented and world-class animation sector to gain exposure to international buyers. I look forward to following the pitches on their journey to international success.

Denitsa Yordanova, Head of UK Global Screen Fund, BFI
Ten projects will be shortlisted and selected to present their own digital pitch to a judging panel of leading kids buyers. The winning pitch will be announced the week commencing October 3 and will receive a marketing package through C21Media worth £30,000 to support development and pre-sales promotion of the show.
The C21 UK Animation Digital Pitch 2022 is open to early-stage projects from UK animation producers. It provides a high visibility opportunity for companies aiming to use Content London and its relationship with C21Media.net as a marketing platform to release new series.
For full terms and conditions and to enter, please CLICK HERE.