In September, UK animation returned to Cartoon Forum in Toulouse, France, in the special initiative 'Animated UK Meets Europe'.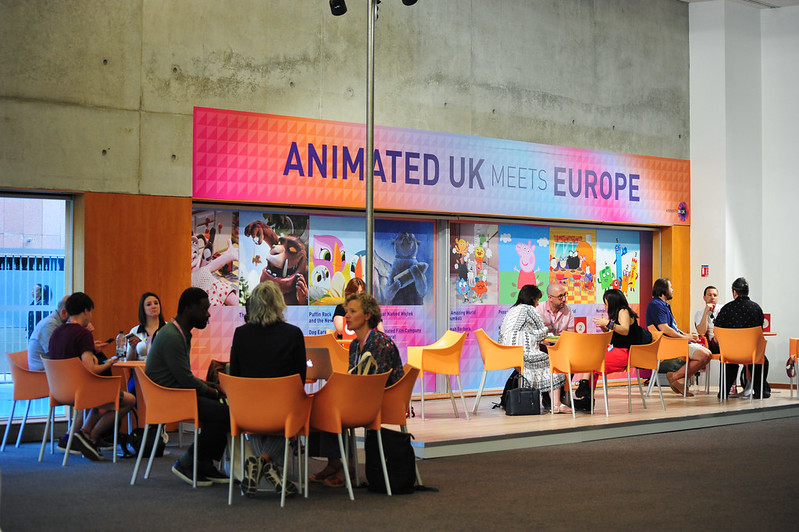 The initiative was spearheaded by Animation UK and supported by the broadcasters BBC, Disney, Warner Bros. Discovery and SKY, and by the agencies Northern Ireland Screen, Screen Scotland, Creative Wales and Film London.
As the UK is globally renowned for its expertise in animation with a world-class talent pool of highly skilled and trained creatives, it is important to continue to include our animation industry within the European industry, and therefore, within Cartoon Forum. We have a long track record in working with colleagues in Europe and we look forward to continuing our strong ties there.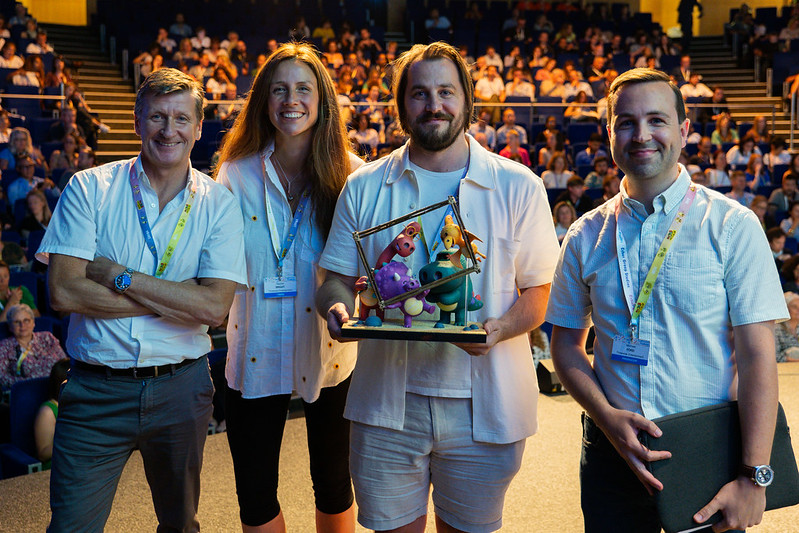 A major highlight at this year's pitching and co-pro forum for animated TV projects was the UK pitching session on the Tuesday, where stunning projects in development from UK creative voices were pitched together with a UK broadcast partner in a 90-minute session chaired by Vanessa Chapman, in front of an audience of 350 people. Each of these projects were looking for collaboration with a European co-production partner.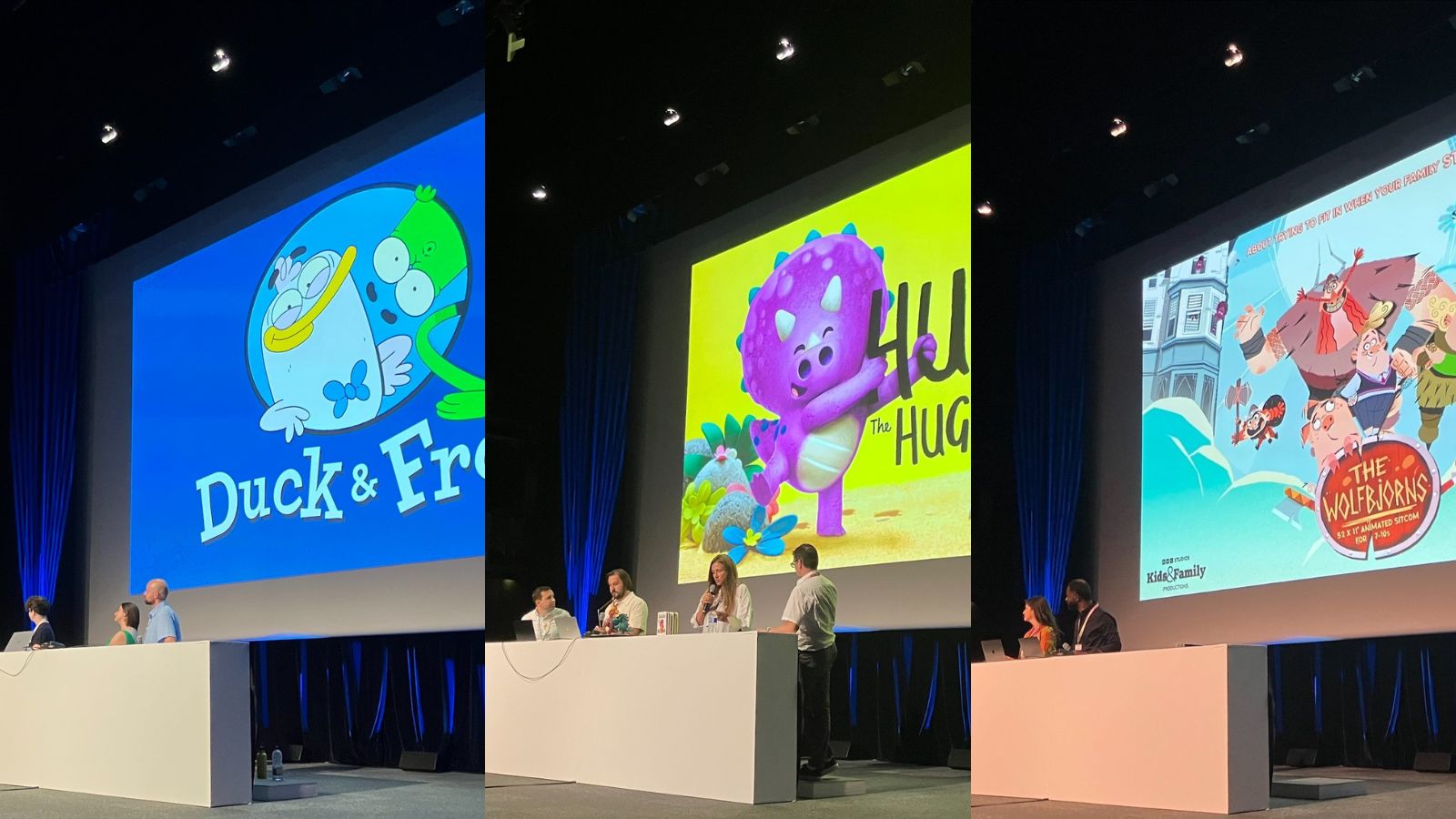 The first pitch was Duck & Frog, created by Sun & Moon Studios with broadcaster BBC Chil­dren's and Education. Audiences fell for the dynamic duo in this unique 2D animation project.
Hug­gy the Hugasaurus was next up, created by Yamination Studios/Threewise Entertainment with broadcaster support from Warner Bros. Discovery. Emotions and feelings are expressed through an adorable dinosaur in this colourful stop-motion animation.
Following came something totally different in the form of The Wolf­b­jorns, created by BBC Kids & Fam­i­ly Pro­duc­tions with broadcaster BBC Chil­dren's and Education. This hilarious animated sit-com follows the story of a Viking family with a contemporary twist.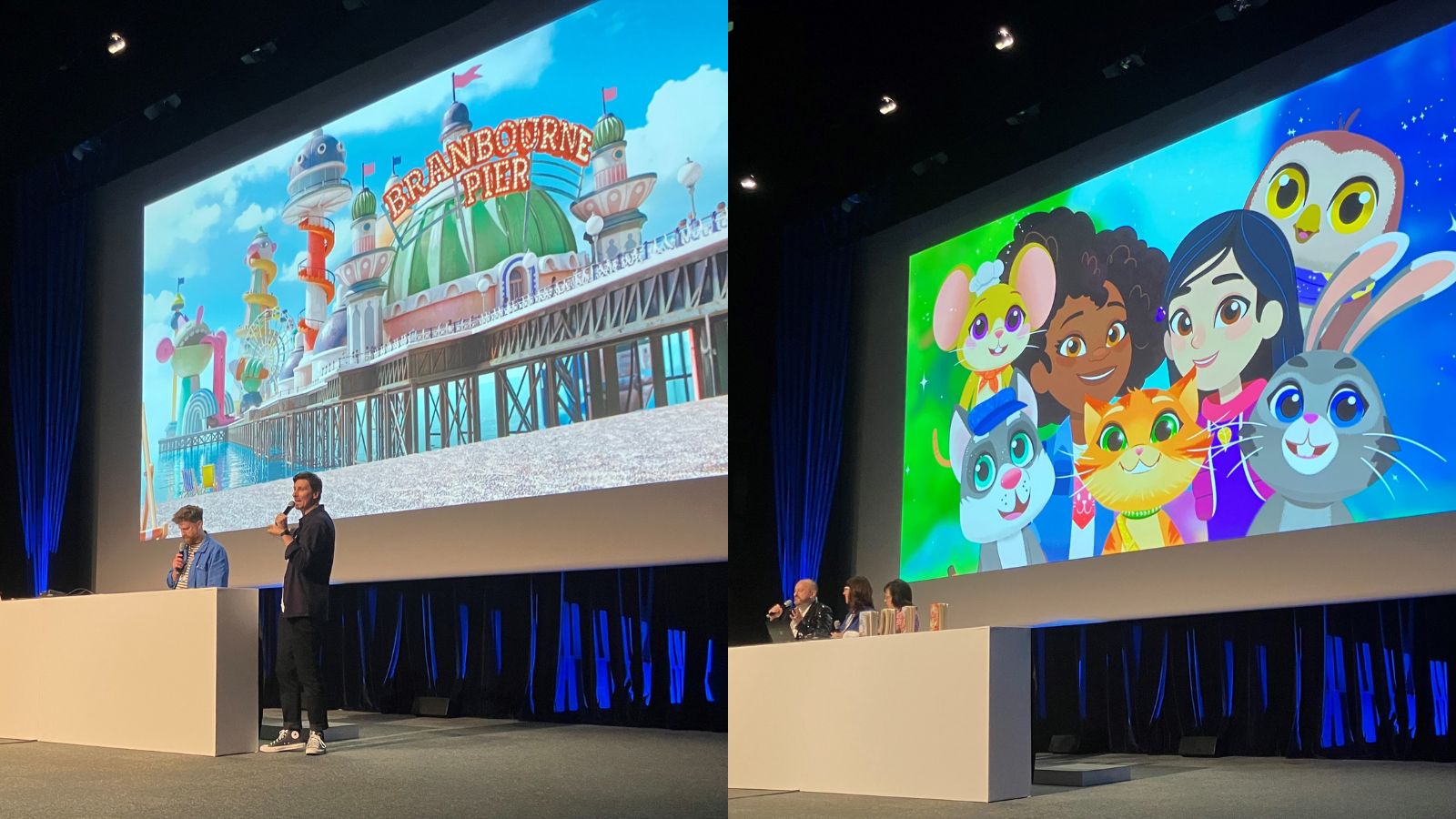 The fourth pitch was Plea­sure Beach, created by Nexus Studios with support from broadcaster Disney+. This quirky 3D computer animation is aimed at older audiences, and highlights the English seaside experience in a fun and cheeky manner.
The final pitch was heart-warming pre-school series Mag­ic Ani­mal Friends, created by Coolabi Group/Paper Owl Films Ltd. with support from broadcaster Sky Kids. Based on the iconic book series by Daisy Meadows, the power of friendship is explored in this beautiful 2D animation project.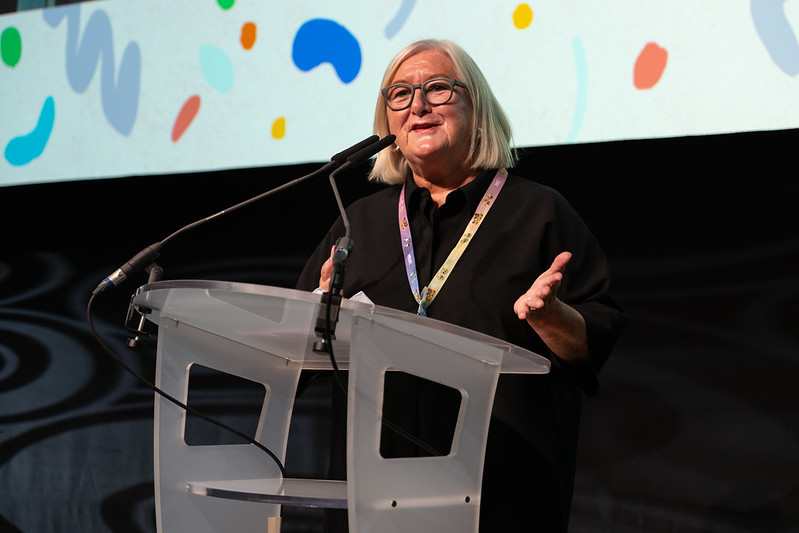 The 'Animated UK Meets Europe' at Cartoon Forum was an unmitigated success. With huge thanks to the broadcasters and our partners in the Nations and London who made this possible, it was so vital to be able to be part of such an important opportunity for the UK.

Special mention to the independent producers, whose pitches demonstrated an astonishing breadth of talent and will undoubtedly attract interest from commissioners, buyers and co-production partners. We are deeply thankful to Cartoon Forum for graciously hosting this opportunity, and we were heartened by the warm reception from colleagues and partners across Europe and look forward to returning next year.

Kate O'Connor, Executive Chair of Animation UK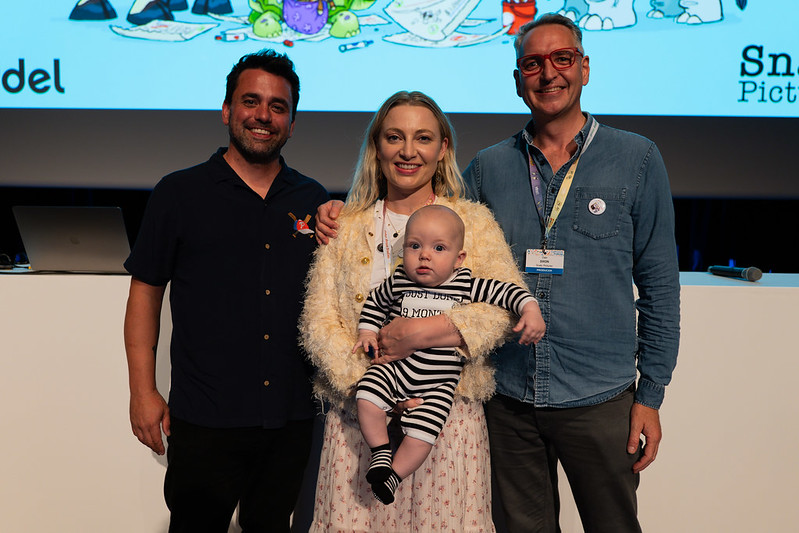 UK animation was also represented in a number of European co-produced pitches including Snafu Pictures and Cardel Entertainment's Baby First Crime Spree, JAM Media's Delivery Dan and Sixteen South and Nelvana's A Horse Named Steve.
After the pitching event, we hosted an evening reception where we celebrated with Pimm's and lemonade and over the four days we also hosted a UK Corner – featuring stunning panels of some of the UK's most iconic animations – where we continued conversations about future collaborations with our European friends.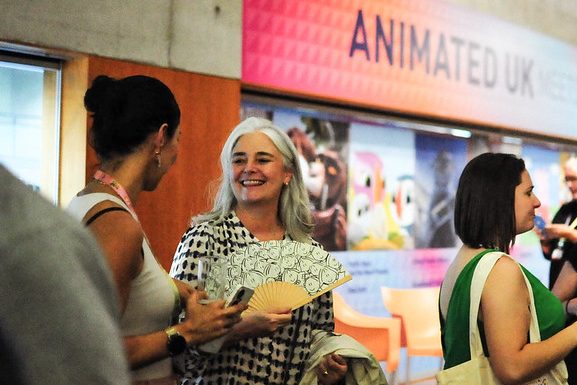 The BBC has a proven track record for supporting the animation industry in the UK and Europe and attending conferences in like Cartoon Forum is essential to keep creating new projects in the UK and beyond. With more pressure than ever to commission more programming that children love, like animation, co-production with European partners is crucial to providing, quality, culturally relevant animated content.

I am confident that the session we sponsored – Animated UK Meets Europe – signals a new beginning for UK creatives and producers to become part of the talented community at Cartoon Forum.

Patricia Hidalgo, BBC Director Children's & Education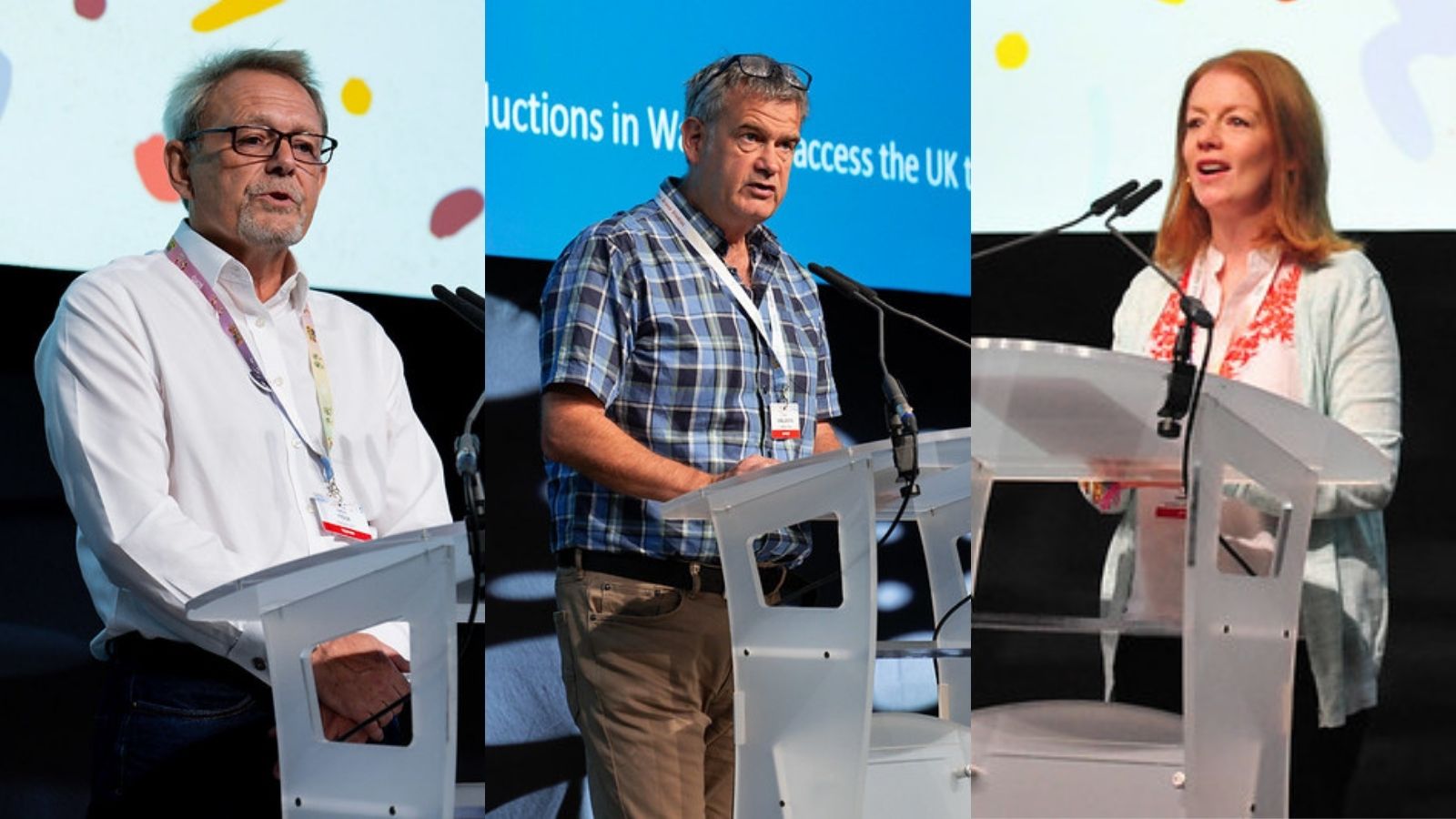 We were excited to support the return of UK animation to Cartoon Forum. The pitching event was a strong display of UK Animation, across demographics, execution and content theme. The pitching teams were well oiled machines, who brought a lot of passion for their projects, eloquent delivery, and humour to the Blue room. What a strong start that hopefully can be repeated.

Zia Sands, Lead Acquisitions, Co-productions and Partnerships at Warner Bros. Discovery Kids & Family EMEA
Thank you to CARTOON once again for the opportunity, and to Annick Maes and the brilliant team at Cartoon Forum for their support. We hope everyone who attended enjoyed this year's Forum!