Acamar Films, producers of the multi-award-winning pre-school series Bing, are set to further delight audiences with the launch of 'Bing Time', a brand new interactive Amazon Alexa Skill. 
Developed in partnership with voice design agency Voxly Digital, 'Bing Time' brings together new scriptwriting, high production values and technical innovation to deliver exclusive audio stories and play-along games, in addition to a selection of Bing music and songs.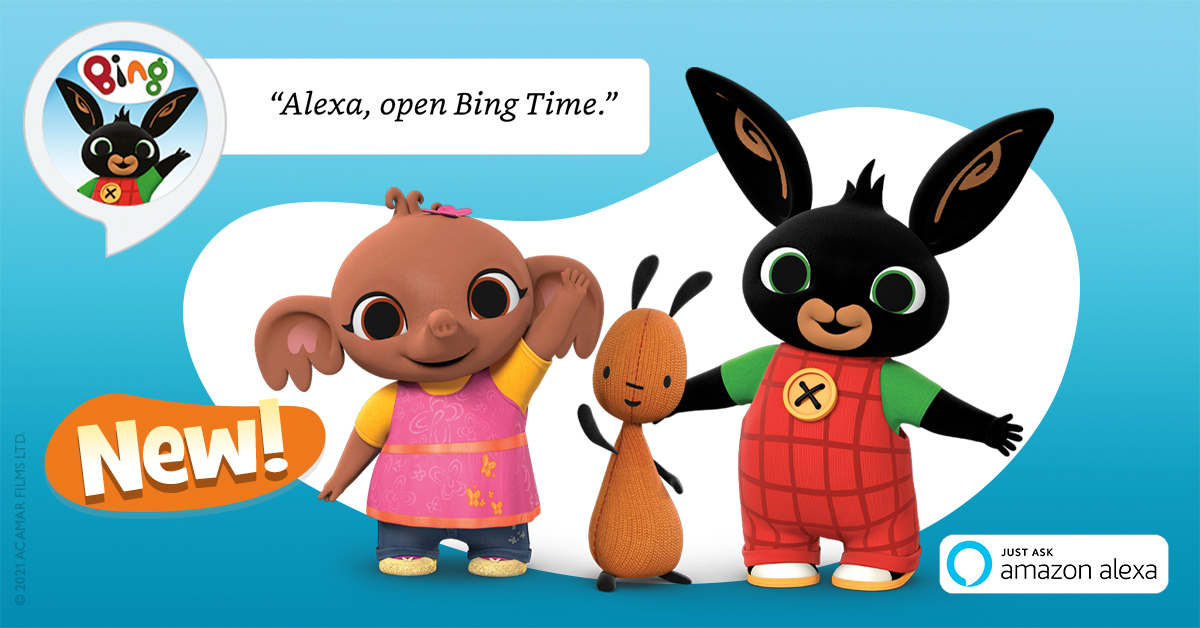 Designed with Bing's young audience at its heart, the Skill responds to the rhythm of a child's day; encouraging movement and active play during the morning and afternoon, while offering calmer bedtime stories and sleepy music in the early evening. The result is a wonderful audio companion, thoughtfully crafted for little ones.
Jodie Morris, Chief Content & Audiences Officer, Acamar Films, said;
"We are thrilled to be able to launch Bing's fantastic new Alexa Skill with Amazon's Kids+, and can't wait for 'Bingsters' to start exploring our new digital innovation. As with everything we do, we have designed 'Bing Time' to serve the needs of our treasured young audience, and – working alongside the wonderful team at Voxly Digital – I think we have succeeded in delivering something really quite exceptional; providing children with a brand new, immersive way to deepen their relationship with our stories and characters."
In their 2020 research, Voxly Digital identified that families make up a big proportion of regular voice users in the UK, with 2 out of 3 of them actively using their voice-assistants together.
Ravi Lal, CEO of Voxly Digital said "We wanted to design an experience which was fun and easy for the whole family, so we created a fluid and easily navigable voice app, which gives users what they want quickly: amazing Bing content. Behind the scenes, the team put a lot of thought into creating an incredible user experience. Working with Acamar Films, we've really pushed the capabilities of the Alexa platform; leveraging videos, animation and recorded audio to bring the world of Bing and his friends to life."
The 'Bing Time' Alexa Skill is a further extension of Acamar Films' hugely successful digital programme for their pre-school property, which also includes the mobile app Bing: Watch, Play, Learn. First launched in the UK in September 2019, the app has now exceeded 1 million downloads across the UK, Italy and Poland.
'Bing Time' will be exclusively launched via Amazon Kids+ from 21 July, with a general audience release scheduled for December 2021.
Simply say 'Alexa, open Bing Time' to enjoy the Skill via Amazon Kids+.
Having fun…it's a Bing thing!