Moonraker produces breath-taking titles and graphic design for Planet Earth III
Planet Earth III is the latest instalment in the BBC Studios' critically acclaimed natural history series worked on by Moonraker VFX, a Bristol-based studio.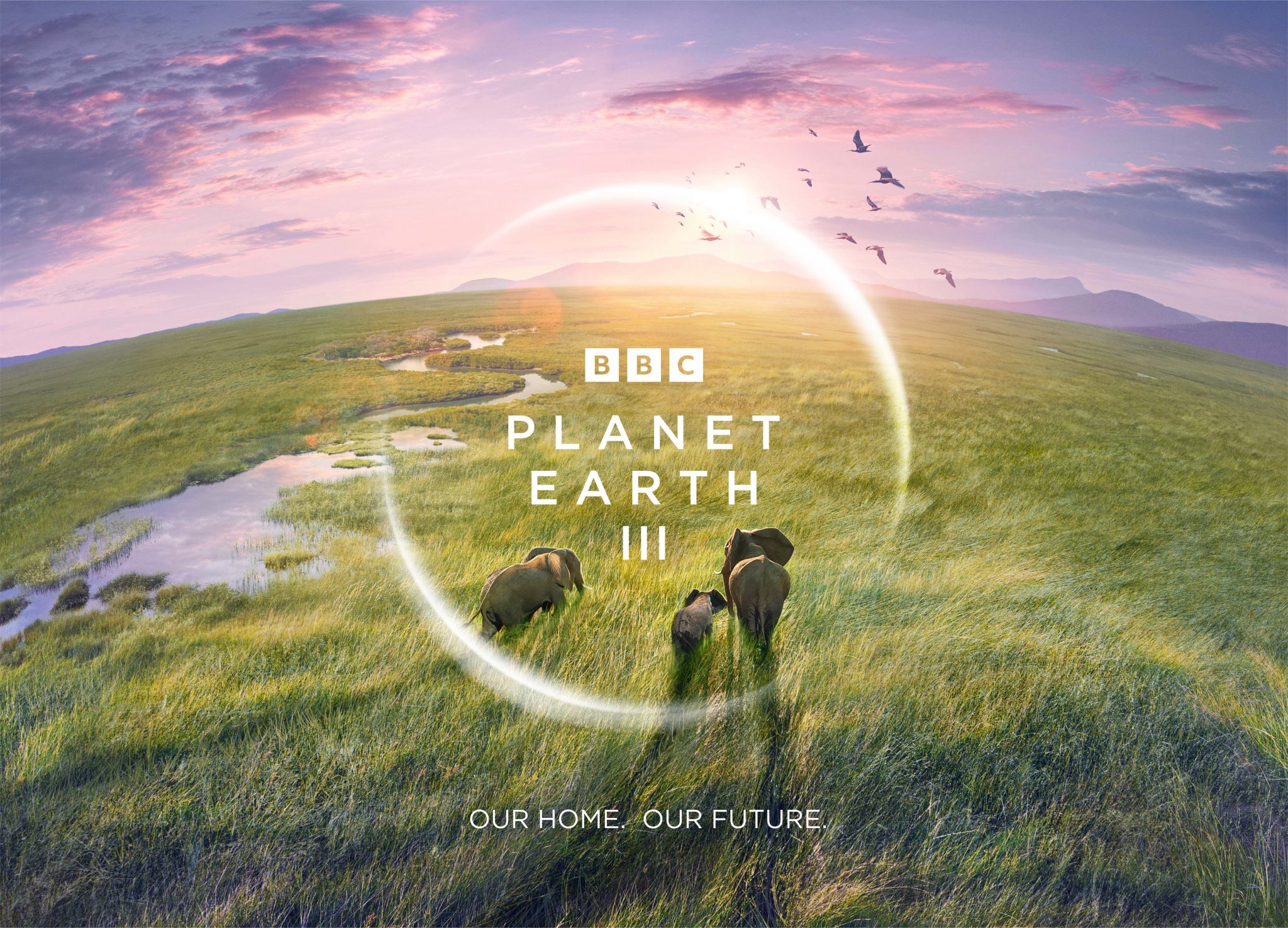 Five years in the making, the eight-part series, presented by Sir David Attenborough, tells the stories of extraordinary animals spanning habitats across the globe, from deserts of ice and sand to lush rainforests and oceans.
Moonraker VFX delivered stunning titles and graphic design, as well as, captivating shots of the Earth from space and editing work for the production. The studio were particularly honoured to be asked to contribute to the new series, having previously worked on Planet Earth II.
For the titles and graphic design, Moonraker carefully considered the legacy of the Planet Earth brand and gave the series a contemporary update that complemented its two predecessors.
Planet Earth first aired in 2006 followed by Planet Earth II in 2016; the series is a global brand with an established visual identity. It was a great experience to return to this project and reimagine the titles and graphic design in a new way while still being respectful of its original iconic style.

Since we worked on Planet Earth II, we have been constantly enhancing our imaging capabilities, which have developed significantly since the last series. Using the latest satellite imagery we have continued to create incredibly detailed and cinematic shots of Earth.

Scott Metcalfe, Executive Producer at Moonraker VFX
On the titles for Planet Earth III we added a small but significant evolution to the iconic end resolve: humanity's fingerprint on the Earth—the lights of cities at night. Another scene captured the awesome power and swirling clouds of a hurricane formed over the Atlantic Ocean.

In terms of editing, we also undertook a particularly complicated and ambitious multi-camera scene in Episode 7, "Human", which included time-lapse footage taken with a motion control rig. It was one of the scenes that both BBC Studios and Moonraker had been planning the longest and its success is thanks to some excellent talent and teamwork.

Graham Stott, Creative Director at Moonraker VFX
Planet Earth III is airing every Sunday on BBC One until 10 December and streaming on BBC iPlayer.
BFI publishes Skills Scoping Study for the UK's Digital Content Production Sectors
The British Film Institute (BFI) has published an in-depth study identifying the skills needed to support growth in rapidly evolving UK digital content production sectors.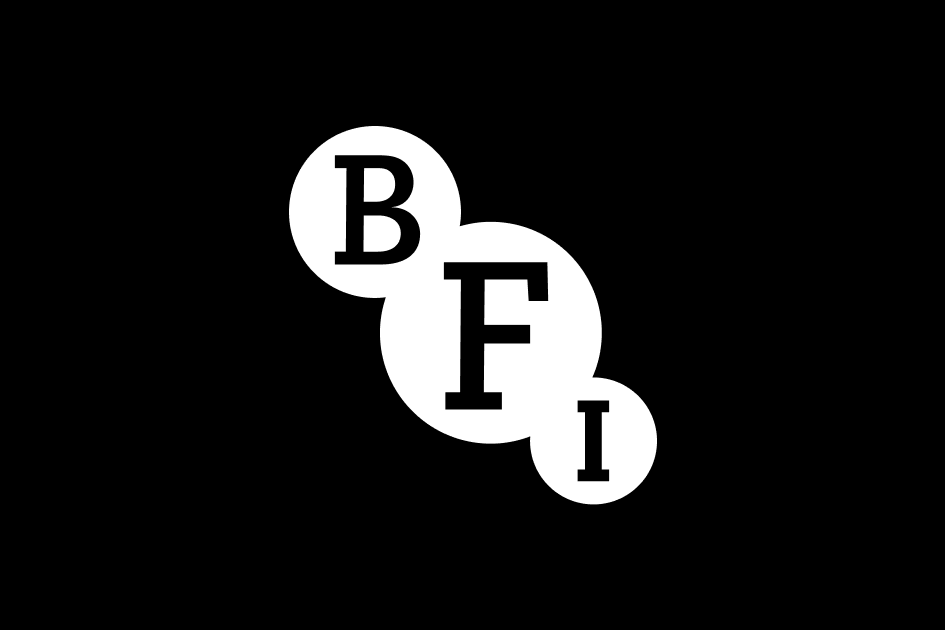 The BFI has published today (5 December) a new in-depth report, Skills Scoping Study for the UK's Digital Content Production Sectors, which identifies key skills gaps and shortages that translate into real opportunities for job creation UK-wide across the UK's growing digital content production sectors. UK animation, post-production, video games, VFX, and emerging tech all contribute to the creative and industrial success of the whole screen sector. With digital and innovation at their core, they are also integral components identified by the Government in the wider UK Creative Industries Sector Vision as having the potential to generate an additional £50bn in GVA a year by 2030. Last month, detail on the uplifts in tax relief through the new incoming Audio-Visual Expenditure Credit and proposed additional tax relief for VFX production in the UK were also announced as part of the Chancellor's Autumn Statement.
Employment levels and production spend in the UK's screen sectors and wider creative industries have experienced strong growth over the last decade, especially in meeting the significant demand created during and immediately following the COVID-19 pandemic. The UK spend on film was £2.2bn in 2017; in 2022 the combined spend on film and HETV production reached £6.27bn, accelerated by a strong return to production after the pandemic.
The digital content production sectors deliver considerable economic value, enabling cross-sector innovation, while also demonstrating strong potential for further growth. Based on the latest calculations for the respective UK sectors within the domestic market, immersive content generated £660m in sales in 2018; animation was valued at £1.5bn in direct GVA in 2019; VFX content generated £1.68bn in GVA in 2019; the video games consumer market was valued at £7bn in 2022; and post-production generated £2.2bn in revenue in 2022. (All UK market figures only.)
The study was undertaken by specialist consultants Olsberg SPI and commissioned to better understand the range of pressures faced by the sectors. These include existing skills provision, identifying which skills and roles are likely to be in high demand in the future, the skills flow between the different digital content production sectors, the suitability of current training for these skills, and the opportunities and challenges around retaining skills. Each studied sector requires core technical skills which can be sector-specific, transferrable or overlapping with other sectors.
The study's conclusions acknowledge the economic value generated by the UK's digital content production sectors and confirm that they are at the forefront of innovation also benefitting other sectors beyond digital content production, with strong potential for further growth driven by global demand for digital content, as well as public and private investment. However, despite the huge potential for growth, the sectors are experiencing a period of increased and complex uncertainty as a result of factors which include fluctuating commissioning production spend; increased international competition offering sizeable tax reliefs and beneficial working conditions; rapid technological advances requiring new skills; and difficulties establishing effective and sustainable training budgets alongside other development and production costs.
The UK's excellence in creative and technical skills and worldwide reputation in innovation represent huge opportunities for the UK creative industries and the economy as a whole, demonstrated by the Government's announcement for a consultation on tax relief for VFX. This detailed analysis provides the essential evidence that supports the business case for capitalising on our capabilities as businesses and the UK's competitiveness in a global market.

Neil Hatton, Chief Executive of UK Screen Alliance
This report underscores the skills gaps and shortages, the cross-sector mobility, and the competition from overseas for our skilled workforce and talent. Developing strategies to nurture and retain our skilled workforce is imperative, particularly as animation not only generates widespread employment across the UK but also bolsters high-quality jobs. With a workforce of over 16,000 based across the UK in hubs in every region and nation, animation craft, technical and creative skills are central to all digital production.

The consequences of inaction are significant. The digital production sector overall, acting as the R&D hub for the screen industries and the broader virtual and immersive content, plays a key role. By positioning the UK as a global epicentre for cutting-edge computer-generated content and technologies, we can also extend our expertise to diverse fields such as industrial design, medicine, retail, education, and the evolution of the digital landscape. This report is a catalyst for developing strategies that support growth and will be thoroughly reviewed by the Industry Skills Task Force in the ensuing months.

Kate O'Connor, Executive Chair of Animation UK
The UK's digital content production sectors are a major international success story and a crucible for R&D. Investing in skills for these high-potential creative companies is not only about supporting and driving economic success, it is also about improving routes into the industry, driving more inclusion, boosting the UK's R&D capabilities both for the screen sector and for the wider UK high-tech sectors, and sharing the benefits of growth. Aardman Animations in Bristol and Gorilla Group in Cardiff are clear examples of both the ability of the sector to develop outside of London, and of the benefits in employee retention and innovation that investment in training can bring. However, success should not be taken for granted. With rapid changes in technology and an evolving international marketplace, this report comes at a pivotal time for the UK's digital content production sectors. This report highlights the key areas, from alignment in 'bridging' training programmes to focus on AI impact, to support for SMEs, that can and should be the basis for forward-looking skills strategies for the sector.

Rishi Coupland, Director of Research and Industry Innovation at BFI
This study provides new evidence of the sector-specific and shared issues facing the UK's digital content production sectors in establishing effective and sustainable skills training programmes. It comes at a critical juncture for industry, training providers and policymakers in fully understanding where skills gaps and shortages are within our sectors and where they will be in the future. Making the right investments in skills and workforce development and designing programmes to ensure workers gain valuable skills for required roles will help to grow companies and ensure their competitiveness, and at the same time ensure individuals can build sustainable careers in these fast-moving sectors. We must also ensure our investment in and commitment to training are coupled with support that aids businesses to deploy best practice approaches in good work, so talent is also retained.

Sara Whybrew, Director of Skills and Workforce Development at BFI
We welcome the release of the study and the insight it gives us into digital production skills in the UK. The study will support the Task Force in delivering on its promise to find ways to join up sector skills strategy across physical and digital production.

Georgia Brown, Chair of the Screen Skills Task Force
The study identifies specific skills shortages within each sector as well as those shared across the areas of digital content production. The study also looks at how skills shortages across all the sectors have been exacerbated by issues of retention faced by employers, affecting the growth of the sectors. Factors hindering retention include overseas companies attracting workers as well as from a domestic perspective more competitive salaries and skills training offered by larger companies, particularly in London, poaching workers from smaller or regional companies. The growth in demand for new content during and after the pandemic led to increased work pressure, high levels of attrition of workers at mid-senior levels and the premature promotion of under-skilled and inexperienced employees. The study identifies movement of skilled workers between sectors but also to other sectors such as Big Tech, FinTech and Web 3.0.
The importance of fiscal incentives in production globally is key to attracting workforce migration. Therefore, the Government's publication last week of the detail behind the UK's new increased expenditure credits for animation and the proposal to introduce additional tax relief for VFX will help to ensure the UK's competitiveness as a hub for production overall. The study's findings, however, also identify how recruitment and retention of staff from the EU/EEA has now become more complicated and expensive for UK companies because of the need for work permits and visas and other logistical issues in the wake of the UK's exit from the EU.
The study identifies several key technological advances affecting the digital content production sectors in the short to long-term future. They include AI; blockchain technology; cloud-based computing facilitating collaboration and data sharing among remote-work teams; open-source data providing cost-effective and flexible solutions customise and improve their workflows and tools; real-time rendering technology saving time and money; and virtual production (VP). All of these provide benefits to digital content production and working, reducing carbon emissions and potentially budget, but they are also disrupting traditional physical production processes impacting on workforce, skills, and training demand for new skill sets. New technology such as AI is already being used to automate some repetitive tasks which were previously chiefly undertaken by those in entry level and junior roles, providing the opportunity to practice and hone their skills. AI is more likely to redefine future roles and jobs, rather than completely replace them, and will continue to blur roles across the digital production sectors.
The digital content production landscape
Over the last 20 years, innovations in digital screen production have transformed the global screen sector, accelerated by the effects of the COVID-19 pandemic and high demand for digital content. The UK digital content production sectors are a major UK success story with a strong global reputation. They are also critical elements of the UK's creative industries as well as the wider tech industries. In a competitive global sector for digital production work, ongoing targeted skills development is essential for ensuring that growth in the UK is sustainable.
The study's key conclusions detail a complex picture of increased challenges, both sector specific and cross-sectoral, behind current and forecast key skills gaps and shortages. These include:
Digital content production requires a combination of creative, technical, and people skills.
There are overlaps in skills demand across the sectors, with a stronger alignment of skill sets among video games, VFX, animation, and emerging tech than in post-production.
Skills gaps and shortages are prevalent across the UK's digital content production sectors, particularly at the mid and senior levels. Recruitment and retention challenges at these levels are considered as the most critical for providing key leadership responsibilities across a range of workflows and projects. In addition, at these levels valuable skilled talent is most readily hired/poached by other companies, sectors, and countries.
There are persistent skills gaps and deficits among recent graduates, particularly in people skills and their ability to work effectively across industry workflows and teams. Rapid technical advances are effectively redesigning traditional processes and require sector-specific new management skills, as well as technical skills, reflecting more fluid and virtual ways of working.
There is a lack of investment in industry research and trend tracking at Further Education Institutions (FEIs) and Higher Education Institutions (HEIs), limiting their ability to respond to new skills needs. The labour market framework for understanding and tracking changing skills across the creative industries as recommended in the Government's Sector Vision may help with this issue.
Establishing effective and sustainable skills training programmes is a challenge as provision is impacted differently in each area of digital content production. Service providers within VFX and post-production sectors struggle to secure skilled workers in a highly competitive, international market. Microbusiness content creators in video games, animation, and emerging tech hire freelancers on a project-specific basis, resulting in high staff turnover. Smaller businesses regularly lack the funds and capacity for sustained skills training compared to larger established businesses.
Technological advances, increased work flexibility, targeted recruitment campaigns, and joint industry actions have helped to progress making the studied sectors more inclusive, but barriers persist across the sectors for Black and Global Majority individuals, women, people with disabilities, and those from underrepresented socio-economic backgrounds.
These challenges persist for several reasons including barriers in accessing work opportunities, where the requirements for key roles exclude those unable to access formal training pathways and networks; barriers in the workplace including inaccessible recruitment practices for people with disabilities, a lack of diversity in leadership, and a lack of Human Resources teams in smaller companies.
There is also a lack of consistent, comprehensive and intersectional data collection hindering the sectors' ability to track, isolate, and resolve challenges effectively.
The extensive scope of research for the study has included the review of 53 existing sector research and policy reports, articles, and datasets; 22 individual consultations with stakeholders across industry, research, and policymaking; five focus groups; and attendance at trade body/ skills group meetings.
In addition, six case studies were undertaken to illustrate the existing programmes around effective and sustainable skills development and training with:
Aardman Academy – Part of Aardman Animations in Bristol, the Academy provides industry- based training at all levels, including partnerships with academic institutions and animation schools globally.
BAME in Games (BiG) –a UK-wide volunteer-run group in video games, BiG hosts regular events, a mentorship scheme and, prior to the pandemic, organised company 'open days' designed to help improve representation of Black and Global Majority people working in the games sector.
Escape Studios – a private, not-for-profit institution working in partnership with Coventry University. Its focus on applied training working with industry employers demonstrates how networks and strong links with the industry are central to providing high-quality education with the digital content production sectors.
Gorilla Group – a leading post-production company based in Cardiff, with effective recruitment and retention practices and training programmes.
NextGen Skills Academy – merges industry and education by offering courses in video games, animation, and VFX skills, developed alongside leading companies in these fields, meeting sector-specific needs, boosting the job readiness of graduates, and aiding businesses in their search for qualified professionals.
StoryFutures Academy – run by the National Film & Television School and Royal Holloway, University of London, it is funded by the Arts and Humanities Research Council, part of UK Research & Innovation (UKRI). The Academy introduces storytellers to emerging technologies to inspire them to craft immersive experiences, supports the development of new skills, and conducts research and development for the sector.
The study makes recommendations for further research, focusing on potential solutions to help inform a skills strategy for the UK's digital content production sectors, including:
Ǫuantifying employer investment in skills training and recruitment to show which sectors and types of companies require greater employer investment to meet critical skills deficits and skills shortages – and where further funding and support may be required.
Further testing the size and shape of the UK's digital content production sectors to provide a valuable tool for tracking movement between the studied sectors and others, as well as identifying role and occupational changes, and specific skills shortages as they develop.
Assessing the current impact and short-term sectoral changes caused by AI technology to ensure industry and training providers have a wider and more concrete understanding of the impact of AI, including future skills needs and related pedagogical approaches.
Identifying and aligning effective models that bridge training programmes with industry in order to directly link to, and capitalise on, the work of the BFI Skills Clusters, ScreenSkills, as well as the Skills Task Force's industry proposals, to align efforts and maximise their collective potential impact.
Further testing the impact of technological advances and changing working patterns on achieving equity, diversity and inclusion objectives in order to understand key barriers, meet the needs of various workforce groups, and enhance the attractiveness of the sectors. It would also enable more informed strategies and interventions to ensure the sectors continue providing 'good work' to all, through higher pay, flexible and remote work opportunities.
Identifying international best practice, including the role and effect of fiscal incentives for addressing issues related to skills and role retention and recruitment, to improve the competitiveness of the UK's digital content production sectors and to grow a sustainable skilled workforce. This should also help devise strategies for effectively managing talent and bridging skills gaps within the industry.
Identifying best practice for addressing issues related to skills and role retention and recruitment in adjacent sectors that could be adopted to assist the growth and sustainability of the UK's digital content production sectors.
The research was commissioned by the BFI, through its National Lottery-supported Research and Statistics Fund, and informed by the external advisory group to the fund. The study was conducted by specialist consultants Olsberg SPI. The full report can be downloaded here.
Supply 2 Location Group announces major international expansion
The UK's leading specialist supplier of film and TV rental equipment and location services, Supply 2 Location Group (S2L Group), have announced the launch of their new international division.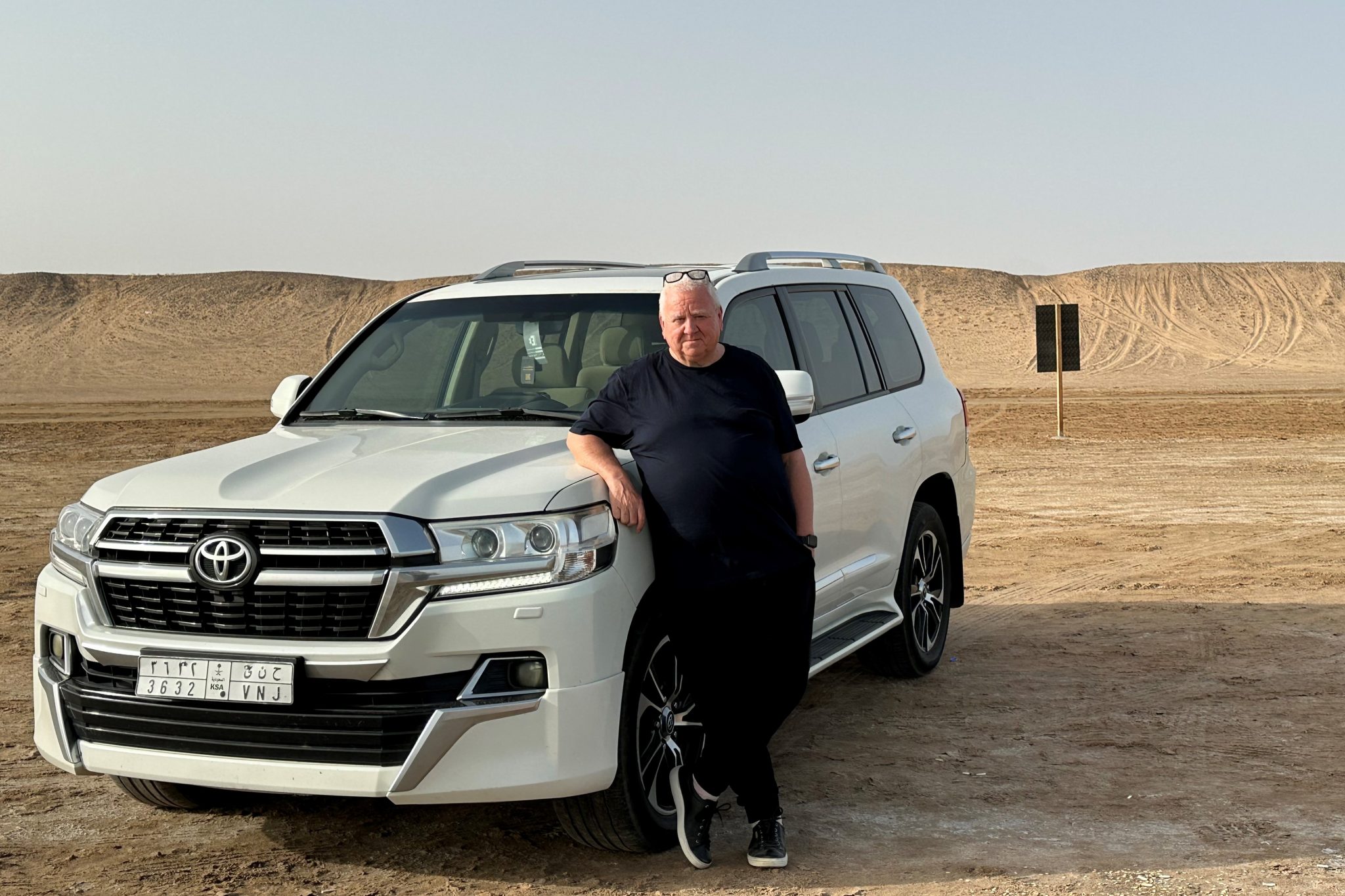 S2L International will open its first regional office in NEOM, Saudi Arabia in early 2024. The creation of the new division aligns with S2L Group's development strategy and will oversee all the group's international business as it moves to establish offices, supply hubs and infrastructure support in key territories.
Opening our first international office in NEOM is a major milestone in S2L Group's future plans. It will help us meet the needs of our international clients in a location which we believe will become one of the epicentres of the global filmmaking business.

James Williams, CEO of S2L Group
Ian Pearce, currently S2L Group's Managing Director – Regions, was appointed today as S2L International's CEO.
Over recent years, our international requests for location support have increased, and we have contributed to significant projects for clients in Malta, Italy, Namibia, Spain, Portugal, Croatia, Iceland, Morocco, Dubai and the Canary Islands. From early 2024, our new international division means our expanded group will be better positioned to handle increased enquiries across Europe and the Middle East as film and HETV production grows across these regions.

Ian Pearce, CEO of S2L International
S2L Group operates a network of strategically located depots across the UK and continues to lead the way in offering innovative, cost-effective, and sustainable solutions tailored to their clients' budgets, time and location constraints.
S2L Group are exhibiting at FOCUS on 5-6 December 2023 at the Business Design Centre, London.
An inside look at The Wheel of Time S2 with Picture Shop
The facility delivered post-production work on the thrilling second season of Amazon Prime's high fantasy television series.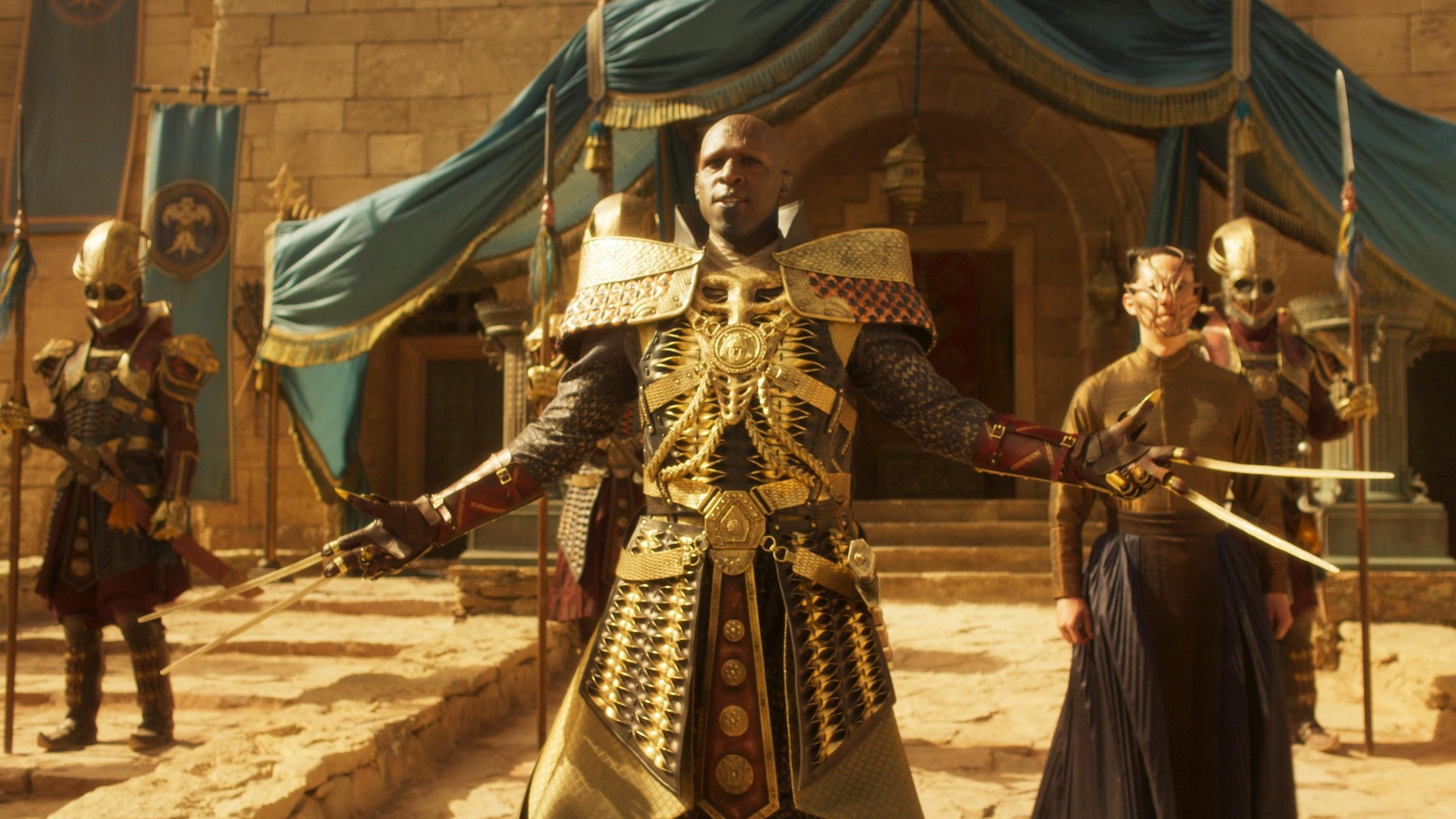 Picture Shop delivered post-production work on the second season of Amazon Prime's The Wheel of Time, which was released on Prime Video on 1 September. In this season, though Rand thought he destroyed the Dark One, evil is not gone from the world. Threats new and very old seek out the young friends from the Two Rivers, now scattered over the world. The woman who found and guided them is now powerless to help, and so they must find other sources of strength. In each other, or themselves. In the Light, or the Dark.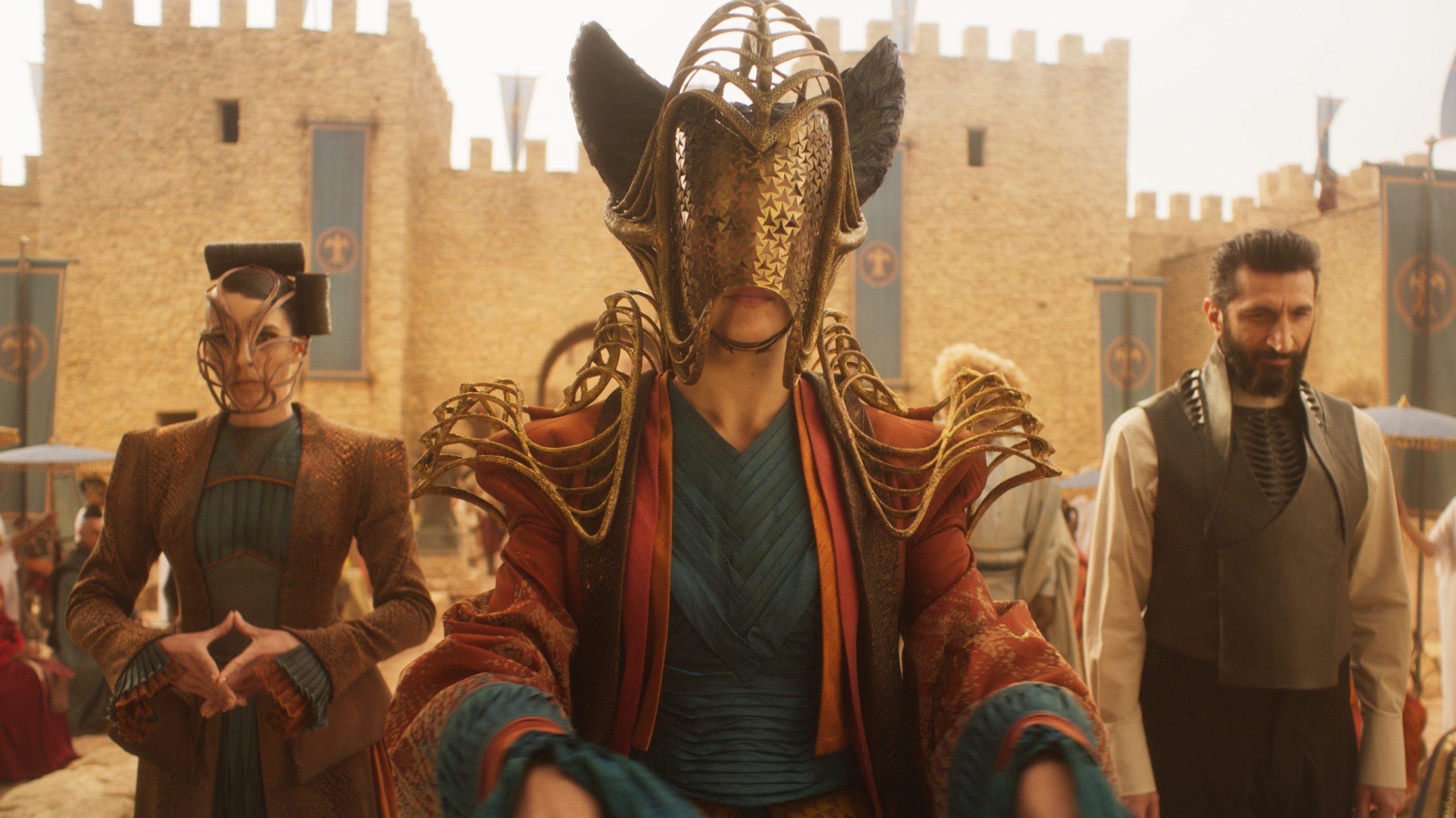 Grade
The Wheel of Time S2 was graded at Picture Shop in London, with Jodie Davidson as Supervising Colourist alongside additional Colourists, Lee Twohey, Sam Chynoweth, and Ross Brunton as Grade Assist, supporting the colour management pipeline using Filmlight's Baselight.
The fantasy TV series, produced by Amazon Studios with Rafe Judkins as the Show Runner, delves into themes of destiny, love, political intrigue, and the struggle between good and evil. The use of colour was crucial in establishing different locations, desired atmosphere, and the political factions of the characters, as well as their intentions.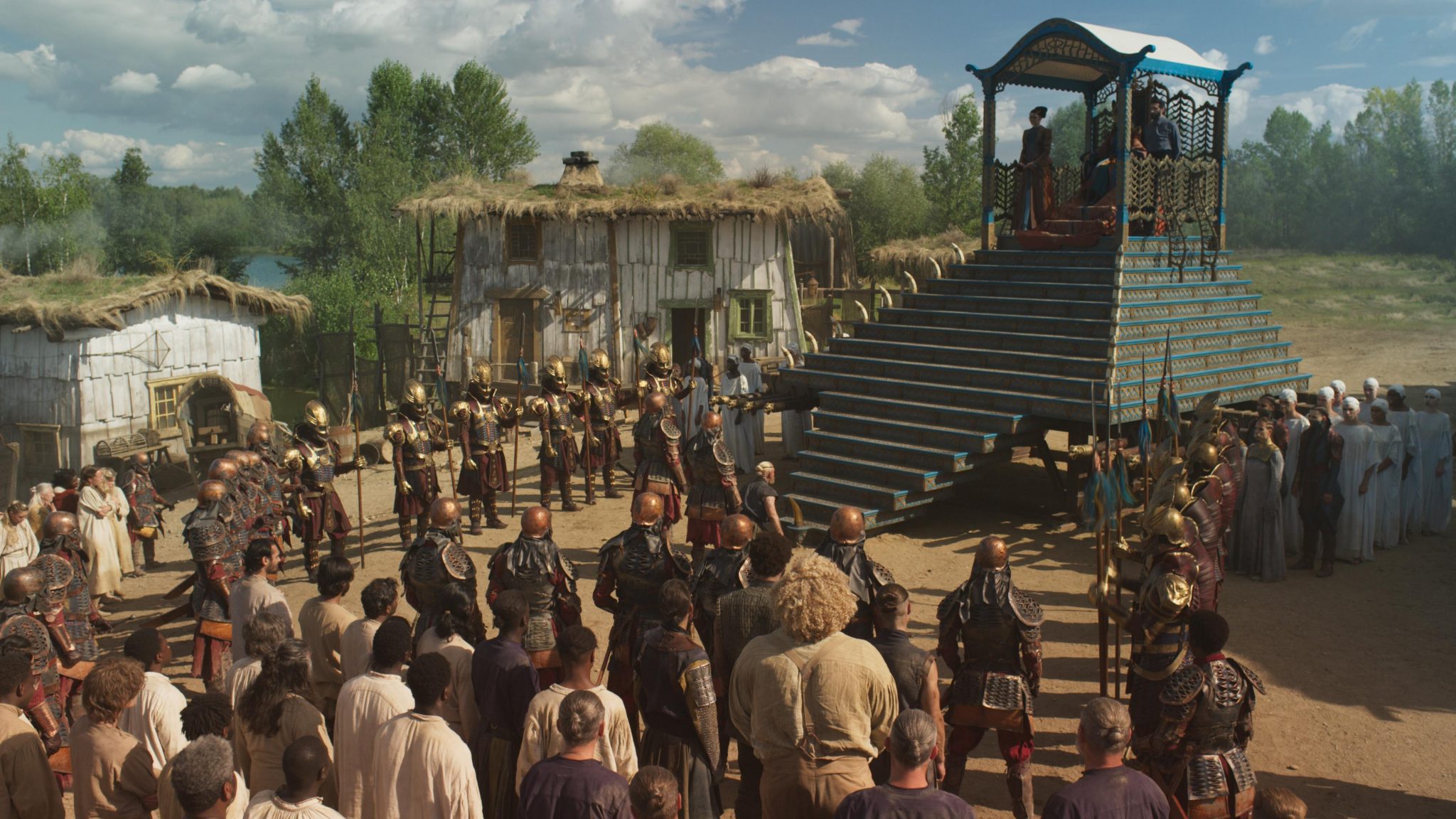 The vibrant tapestry of cultures and landscapes was used to immerse the audience in an epic fantasy world with every location having a distinct colour identity. Each character is associated with specific colours, reflecting their personalities and struggles. The colours become part of their visual identity but also serve as visual cues for the audience, providing insight into their journey and emotional state, weaving into the narrative fabric of the series.
The series' use of lighting is a playground for a Colourist. Candlelit interiors, ethereal moonlight, and fiery battles under the blazing sun create dynamic atmospheres that challenge and inspire. Finding the balance between maintaining the visual integrity of these scenes while enhancing the mood and atmosphere was a rewarding challenge.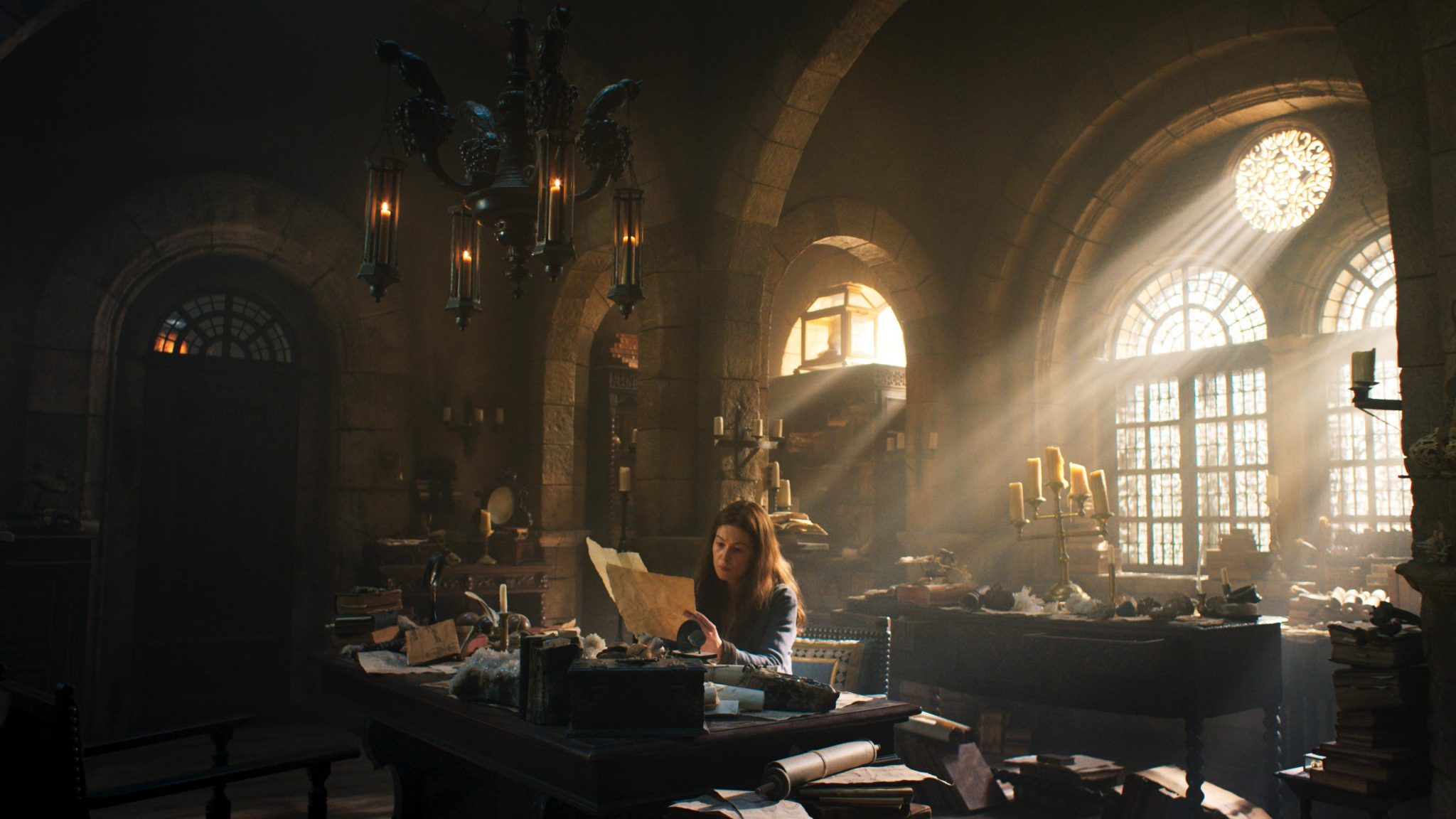 The role of the grade was to enhance the contrast between light and dark while adding more depth and dimension to the scenes. Bringing out subtle nuances in skin tones, textures, and vivid hues to enhance the storytelling where we could.
PULSE, Picture Shop's cloud-based collaboration tool, rendered all shots for the DI conform and VFX pulls. Across all episodes, 21,565 shots were pulled, totalling over three and a half million frames.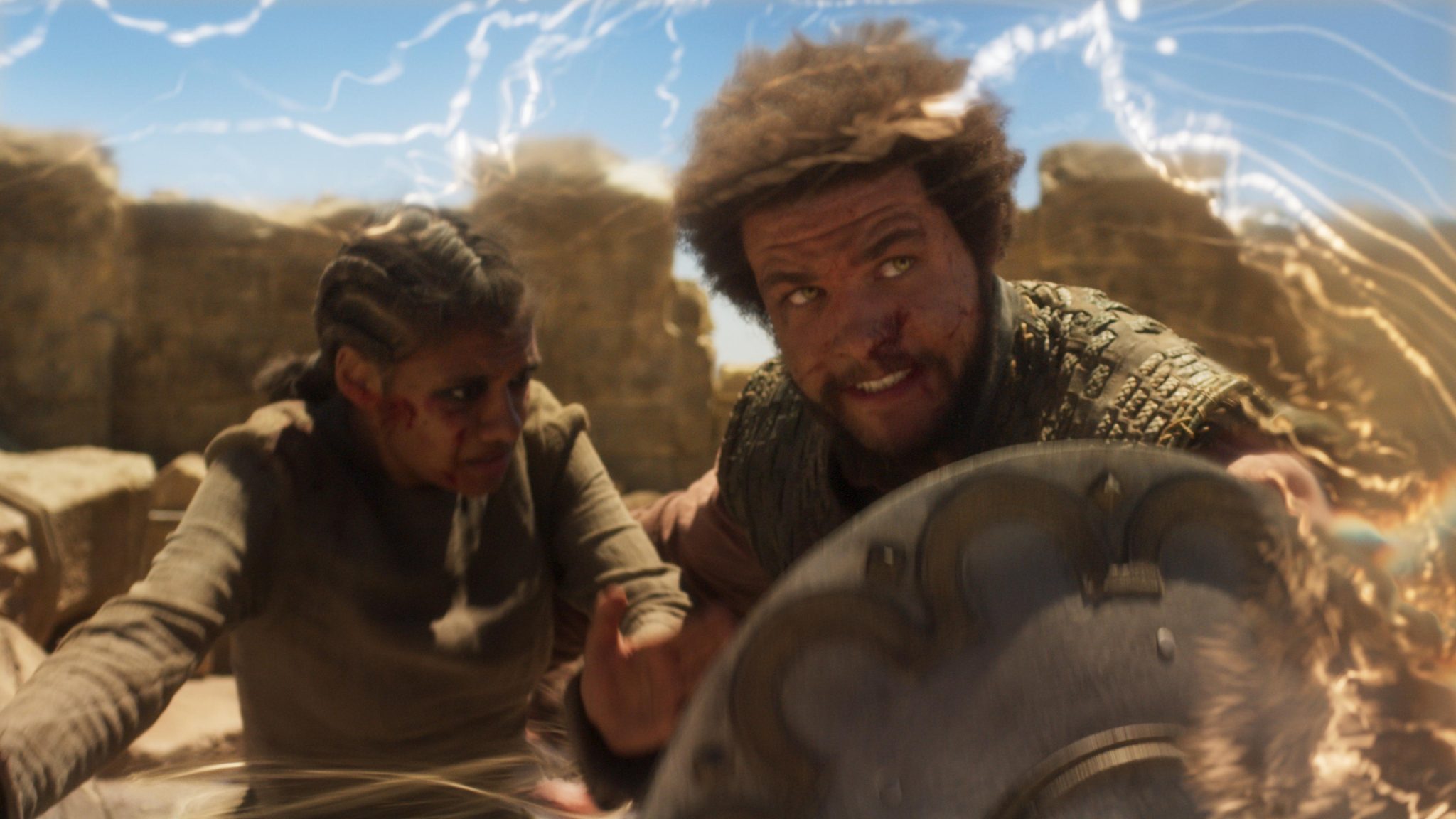 The PULSE team, supervised by Michael Mcknight alongside Head of Workflow Grace Lan, managed the imaging pipeline from the point of capture (Dailies) through to final delivery to Amazon. This involved working closely with the external Dailies team to check they were working to spec during shooting and working with the VFX vendors during the onboarding process, ensuring the spec was adhered.
Picture Shop Senior Online Editor Simon Giblin completed the UHD online using Autodesk Flame. The series was post produced by Picture Shop Post Senior Producer Hamish Mason and supported by Daisy Blue Ella.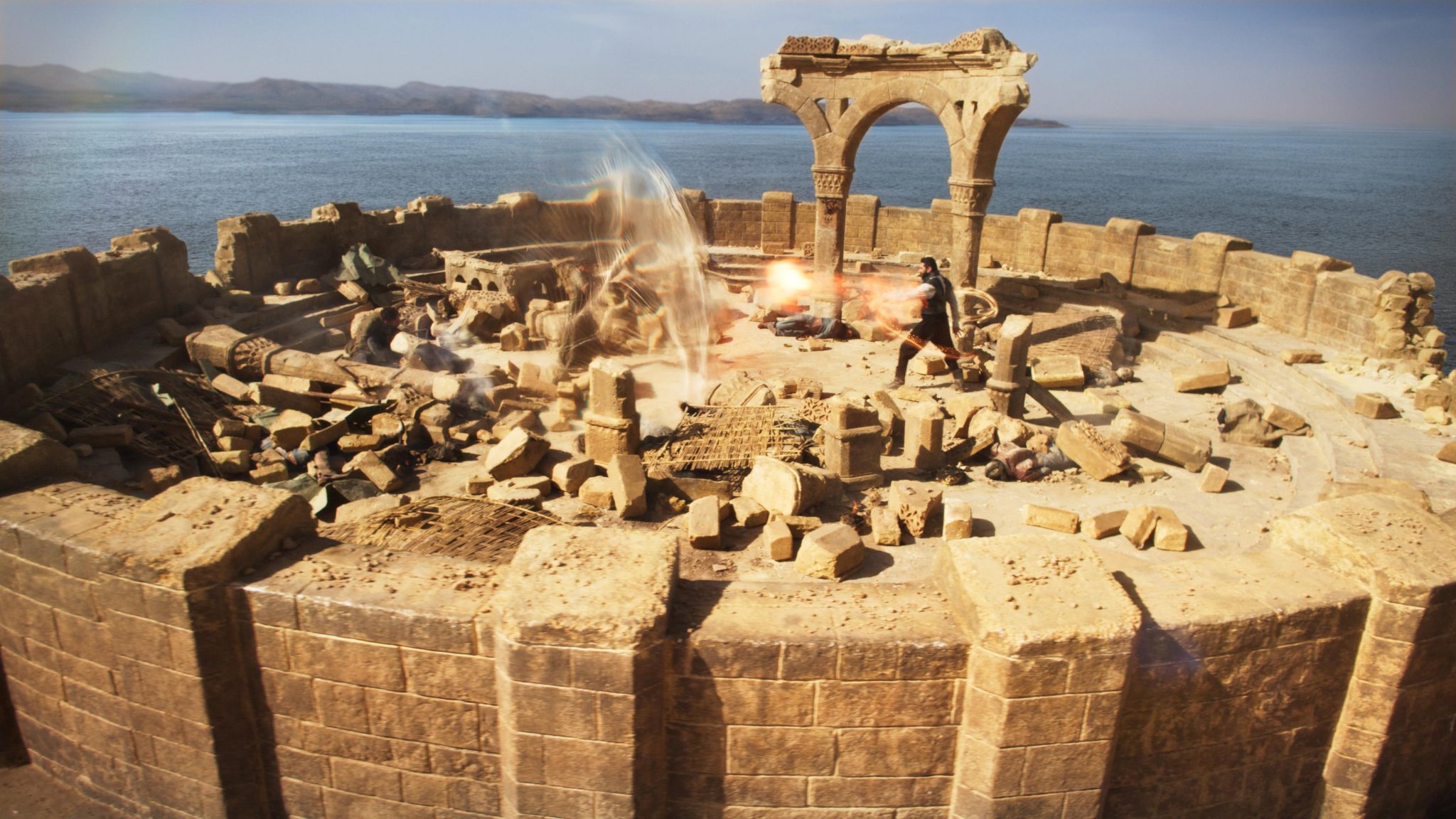 The Picture Shop team are a key collaborator from shoot to delivery. Their attention to detail, professionalism, and creative input is a crucial part of delivering our Show Runners vision and building the ambitious world of Wheel of Time. Our supervising colourist, Jodie Davidson, colour/online team are supported by a wonderful team of producers and assistants who oversee all of our needs from Pulse dailies management, VFX pulls/delivery, reviews, and through the delivery process. The whole Pictures Shop team are an extension of the show and always go the extra mile to delivery on quality

David Frew, Producer (Post) of The Wheel of Time S2
Watch the trailer for The Wheel of Time S2 below.
Moonraker VFX inspires future talent at RTS Futures Festival
The Bristol-based visual effects studio participated in the RTS Futures Festival, hosted by the Royal Television Society, and offered advice and insights to graduates and students.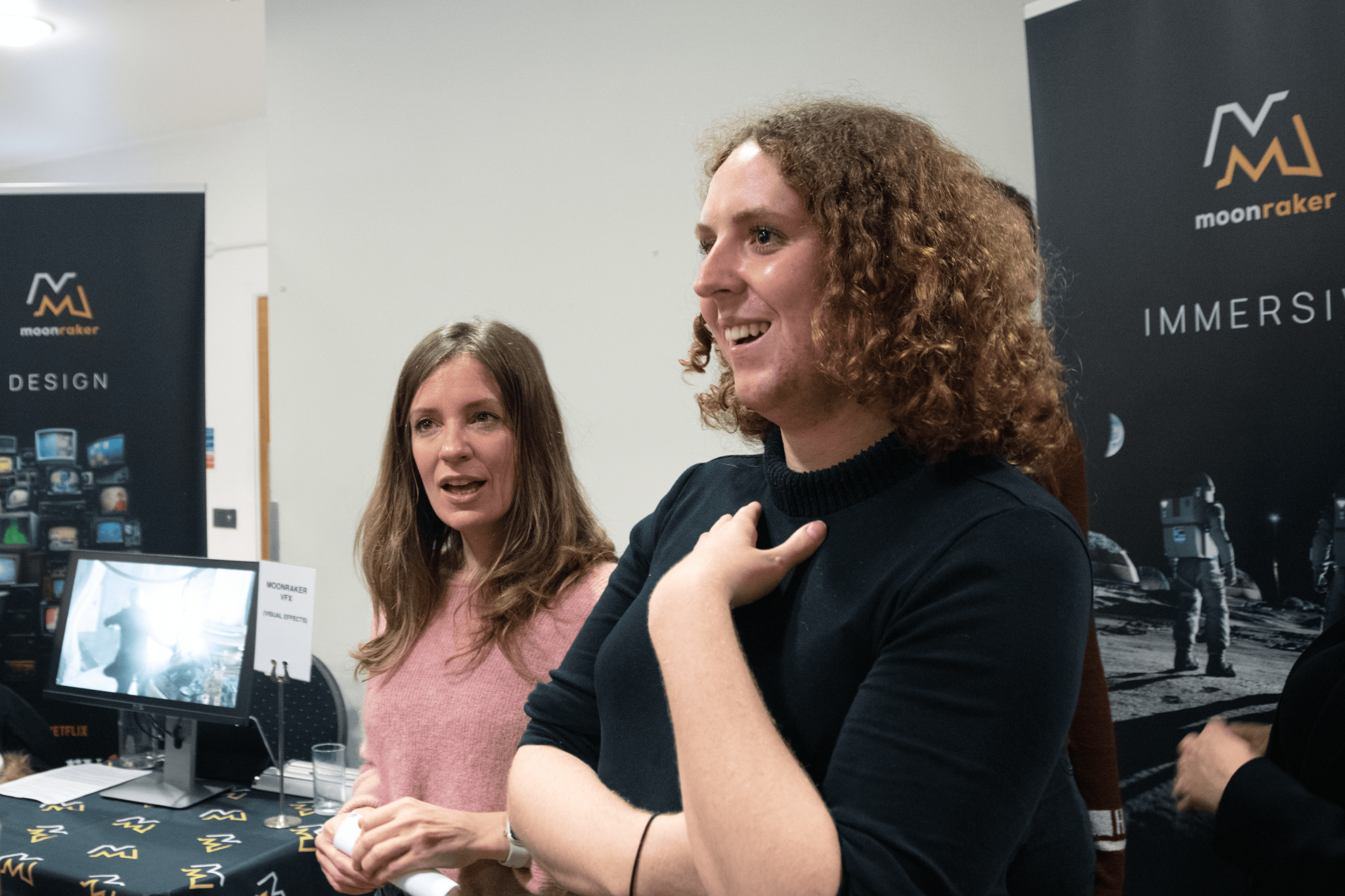 Moonraker VFX, a Bristol-based visual effects studio, took part in the RTS Futures Festival recently, offering valuable insights, advice and information to aspiring individuals seeking a career in the television industry.
The free event took place at M Shed on Bristol's Harbourside and drew over 400 young attendees, where a range of the city's media organisations were on hand to give careers advice. Hosted by the Royal Television Society, the RTS Futures Festival provided a platform for industry professionals to connect with graduates and students, guiding them through the complexities of the modern broadcasting landscape.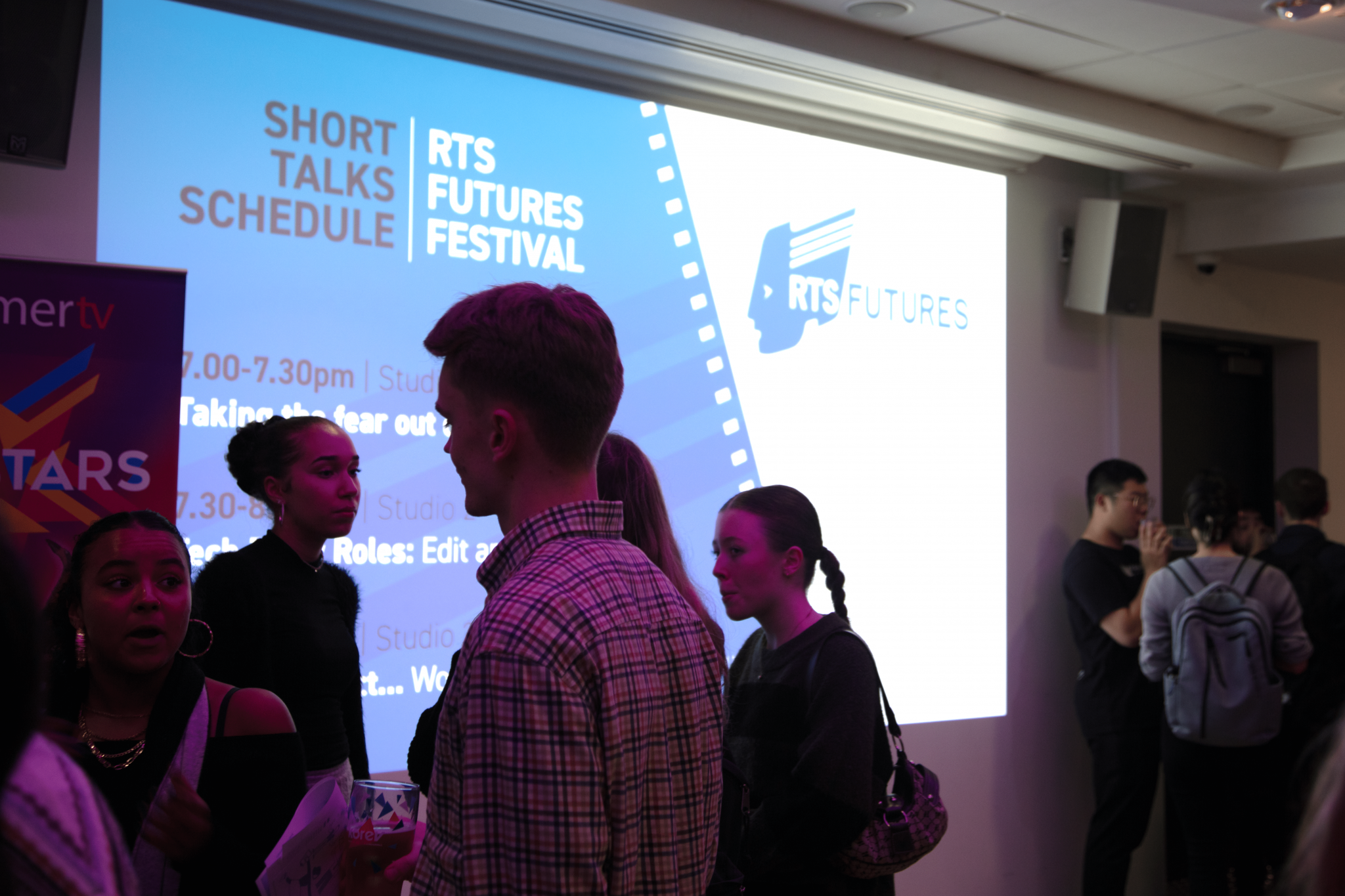 Moonraker – known for its ground-breaking work in Natural History programming including the BBC's recent Earth series – engaged with attendees, sharing knowledge and experiences to inspire the next generation of talent.
Participating in the RTS Futures Festival was a fantastic opportunity for us to connect with the bright minds set to become future leaders of the television industry in the decades to come. Moonraker's presence at the event underscores the studio's commitment to fostering talent and contributing to the growth of the sector.

Simon Clarke, Creative Director at Moonraker VFX
RTS Futures aims to help graduates and those in the early stages of their career to progress and learn about different areas of television. It has an ongoing calendar of events, which you can learn more about here.
An inside look at Brawn: The Impossible Formula 1 Story with Picture Shop
The facility delivered post-production work on the gripping Disney+ unscripted documentary series.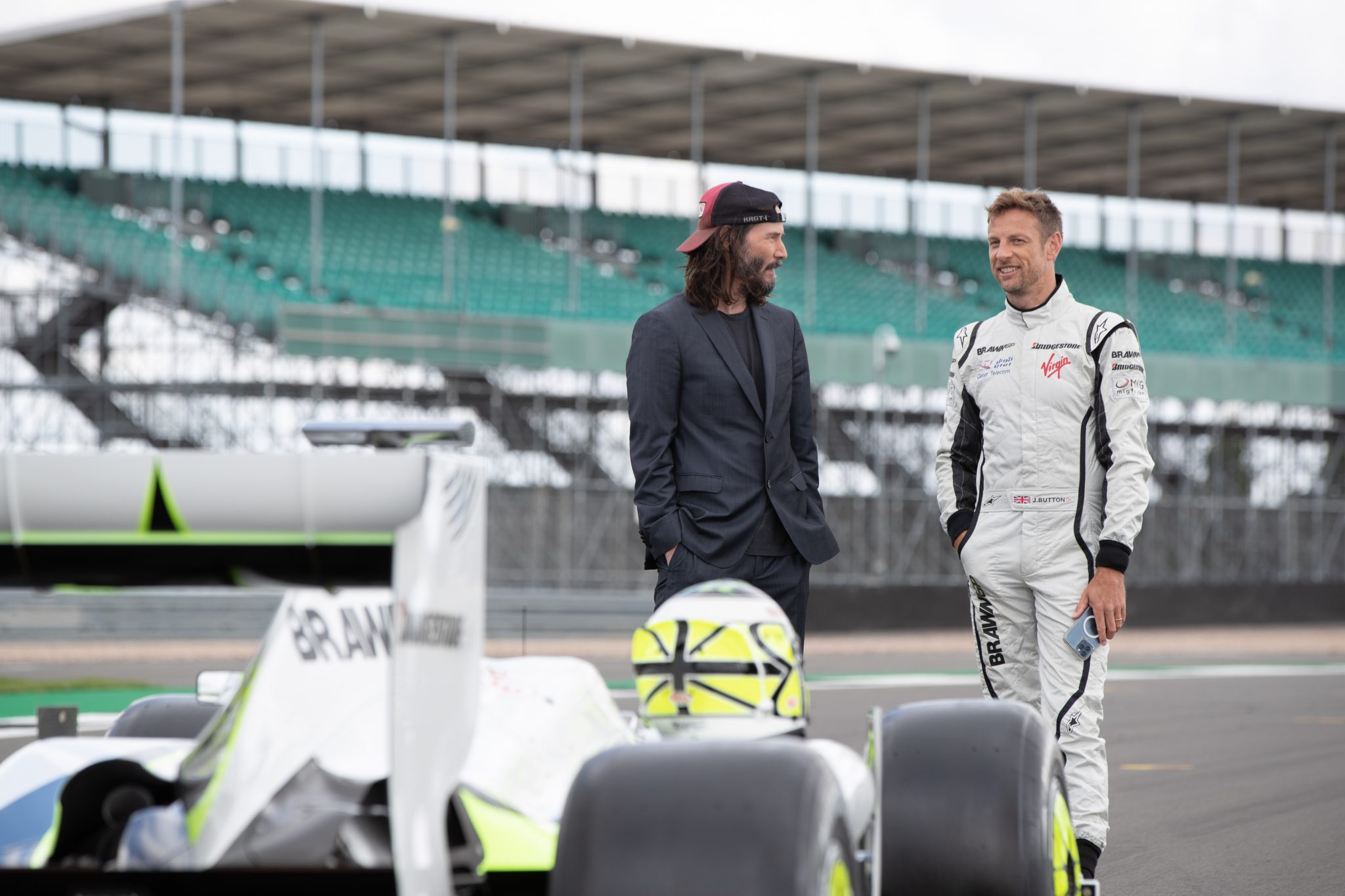 Through the insights of Ross Brawn and revered racing icons, like Jenson Button and Rubens Barrichello, all is revealed in this gripping four-part series. Keanu Reeves tells one of the greatest sagas in Formula 1 history, from the formation of Brawn GP to their remarkable journey through strategic manoeuvres and financial trials, during an exceptionally competitive era in the annals of the sport. Brawn: The Impossible Formula 1 Story was produced by North One and Disney+ and is now available to stream on Disney+.
Picture Shop's Unscripted team in London provided Full UHD HDR Dolby Vision Post Production with 5.1 Audio with a creative team made up of Colourist Alex Chernoff, Online Editor Stef Henley with Online Assistants Max Marshall and Richard Nicholson, Re-recording Mixer Steve Speed with Sound Designer Ivan Onek and Picture Shop Executive Producer Yasmin Amey.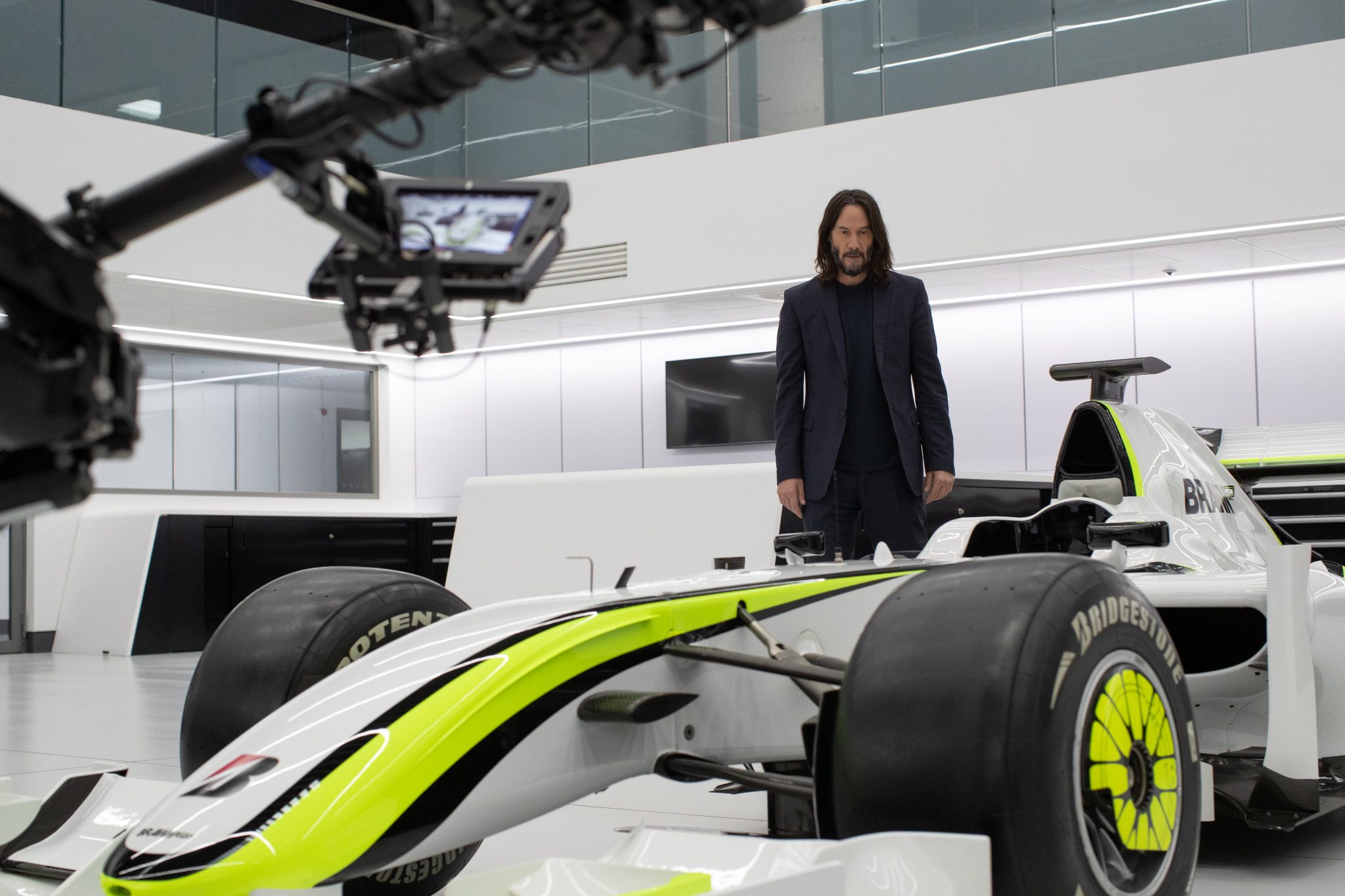 Audio
Picture Shop Re-recording Mixer Steve Speed met up with Showrunner Simon Hammerson several months before the final audio prep and mix began to hear his breakdown and vision for the series. Both shared the ambition to create a cinematic and immersive soundscape for each episode and were keen to do it justice with a mix and soundscape that was multifaceted and pulled the viewer in every direction.
Each episode weaves between interviews by Keanu Reeves with the many contributors, reconstructions of some of the key events that took place behind the scenes, and fantastic archival race and sync footage of the 2009 season. In a way in which only he could do, there are also gorgeously atmospheric set-up scenes with Reeves inside the Brawn factory, as well as, stunning GFX sequences of the Brawn car.
Simon Hammerson and North One have created a series that will truly enthral the viewer and will appeal not only to Formula 1 and sports documentary fans, but also to anyone who just loves a gripping story.

Steve Speed, Re-recording Mixer at Picture Shop
One of the initial challenges was gathering as many accurate sync sound files of the cars and races from 2009 as possible. To be able to create a detailed and immersive 5.1 mix, the first task was to provide Ivan Onek, Sound Designer with enough authentic source sound clips to be able to layer and build up all the individual spot FX needed. Series Editor Owen Davies at North One very kindly provided the sound team with broadcast M+E wavs from several F1 races from 2009. From those, Speed auditioned and edited down over 300 clips of cars passing, crowds, and tannoy sync sounds.
Onek had just five days to complete the dialogue edit, as well as, the FX and sound design. To be able to create an as immersive surround mix as possible, Speed needed to balance and pan the individual elements of the separate cars on a grid and racetrack. To achieve this, Onek meticulously layered the edited archive FX, building and re-creating a soundscape for the various race sections within each episode. Car revs and grunts, individual crowd and tannoy spots were all added to enhance the original mono or stereo sync archival broadcast sound.
Speed had three days for the pre and final mix with a fourth day for the final review and sign-off. He had to work intensely to EQ and balance the dialogues, as well as, the archival race and sync sounds, beds and layers of FX spots, ambience, sound design, and music. At this stage of the mix, Hammerson was based in LA, so both he and Speed would touch base and communicate ideas remotely.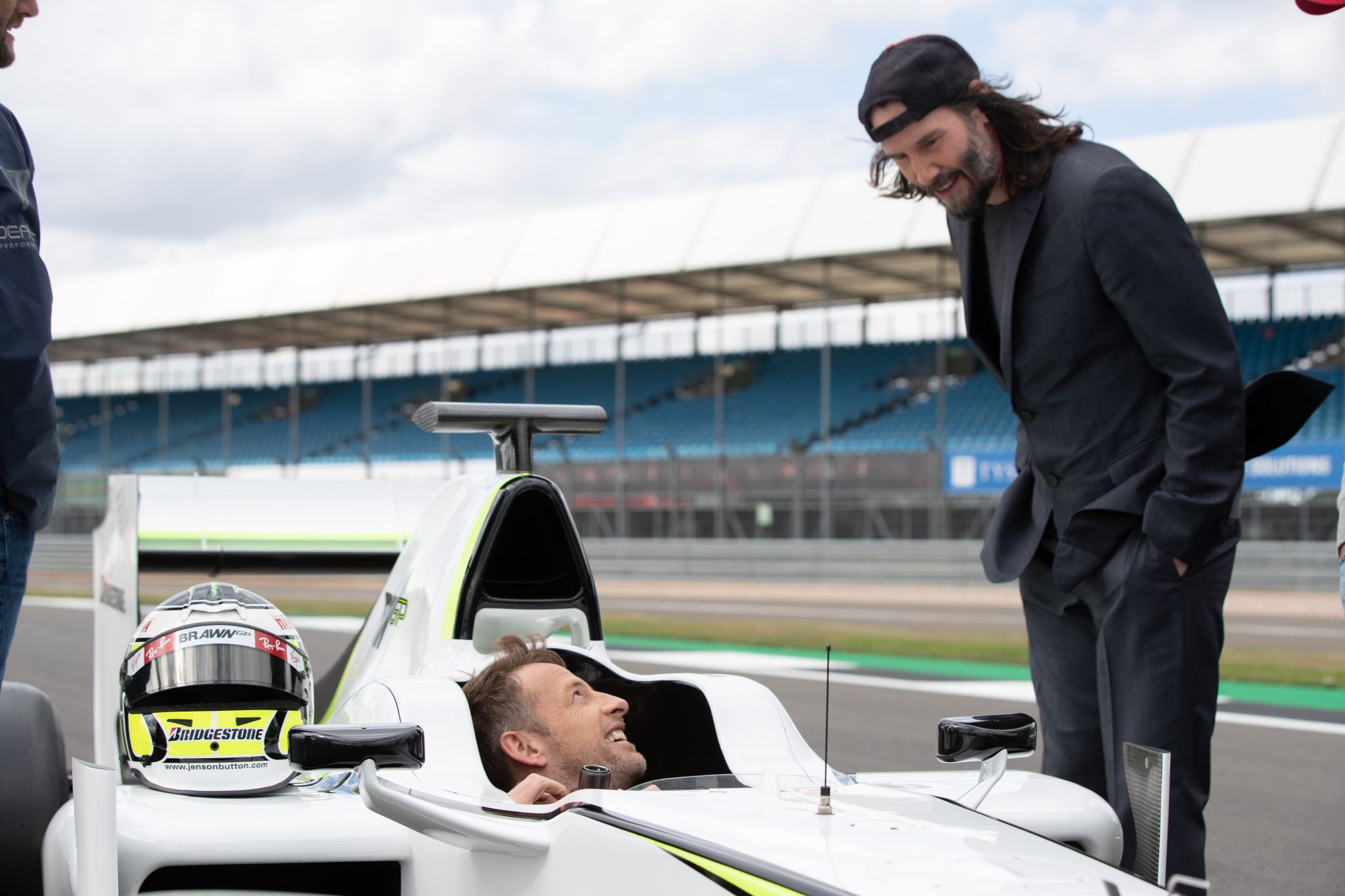 The score, composed by Philip Sheppard and Baby Brown, plays a huge part in the series. Speed worked with Showrunner Hammerson to create the nuance and drama that Hammerson wanted to achieve with the music. In some instances, that also involved building sections of music at the mix stage, using elements from the various music cues available. Despite having to work quickly, the process was a labour of love, and the result is a soundtrack that sounds cohesive between the two composer styles and has all the energy and drama that Hammerson was looking for.
From a creative perspective, working with North One and Simon Hammerson on this incredibly large and complex project was fantastic. Knowing how much everyone at Picture Shop and North One collaborated to get the series over the line made the result one which the entire team is even more proud of. As a viewer, you are not only glued to the brilliant Reeves and the journey he takes us on with Brawn, but also, wholly invested in the characters and events that we see unfold. It was a real privilege and intensely rewarding to work with Hammerson and the teams at North One and Disney on this project.

Steve Speed, Re-recording Mixer at Picture Shop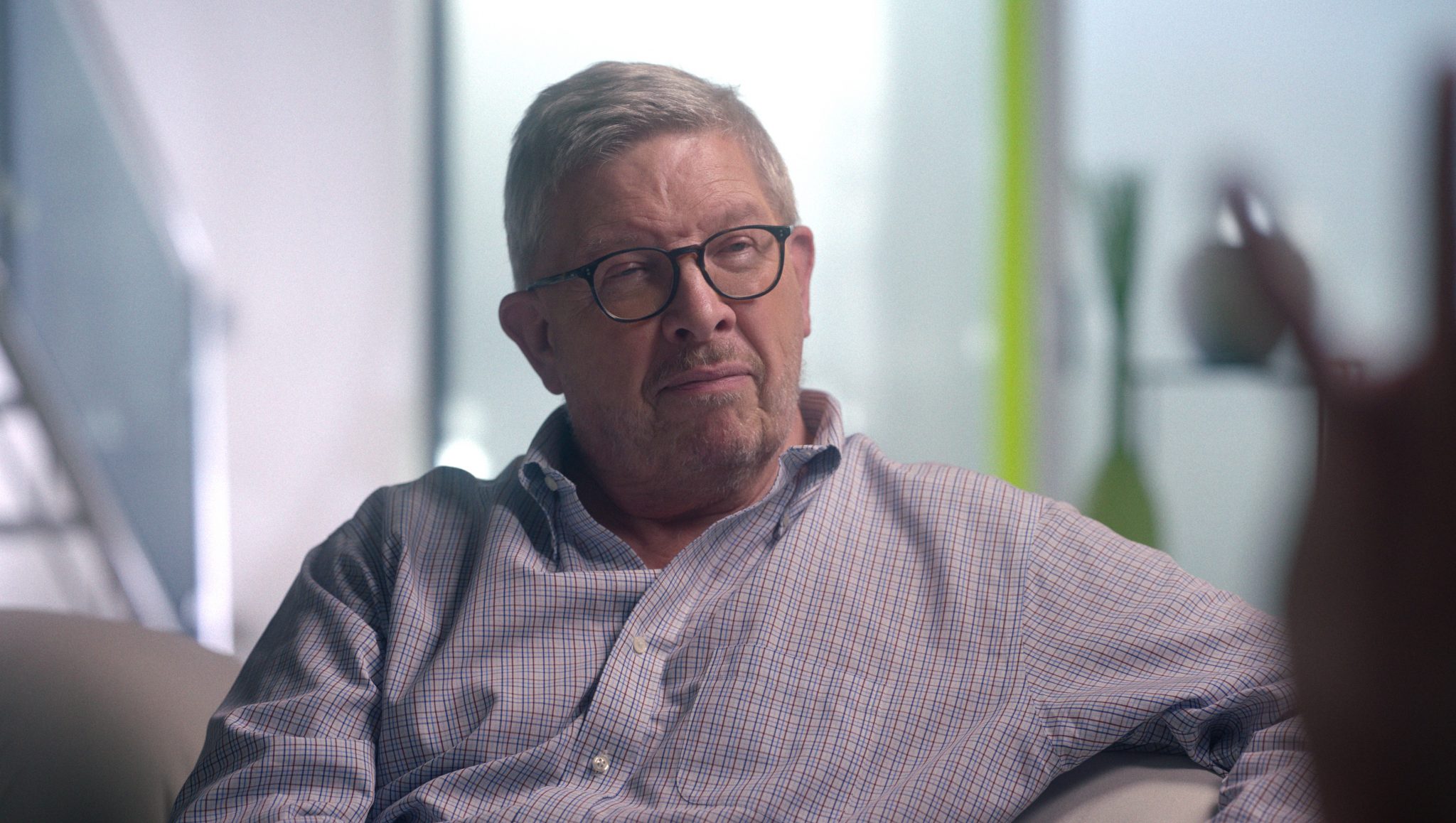 Colour
Picture Shop Colourist Alex Chernoff, graded the series in UHD HDR using Nucoda. The biggest task was grading the archive material in a way that did not feel like video footage from 2009.
In Nucoda, Chernoff colour managed the footage back to a log colour space and graded it back from there, all within an HDR ACES environment. By doing this he had more control over the bottom and top end of the signal. With the onboard cameras, he used Nucoda's image processing tools to clean up some of the noise patterns. With Stef Henley's contributions in the online, in cleaning up the interlace combing video artefacts, they were able to get a good result.
Chernoff's aim was for the interview setup to feel like paintings, flattening the backgrounds and marrying the subjects to their environments. Hammerson had a keen eye for colour and was able to communicate his vision clearly. They focused on the Brawn colours and made sure they popped whenever present in the frame.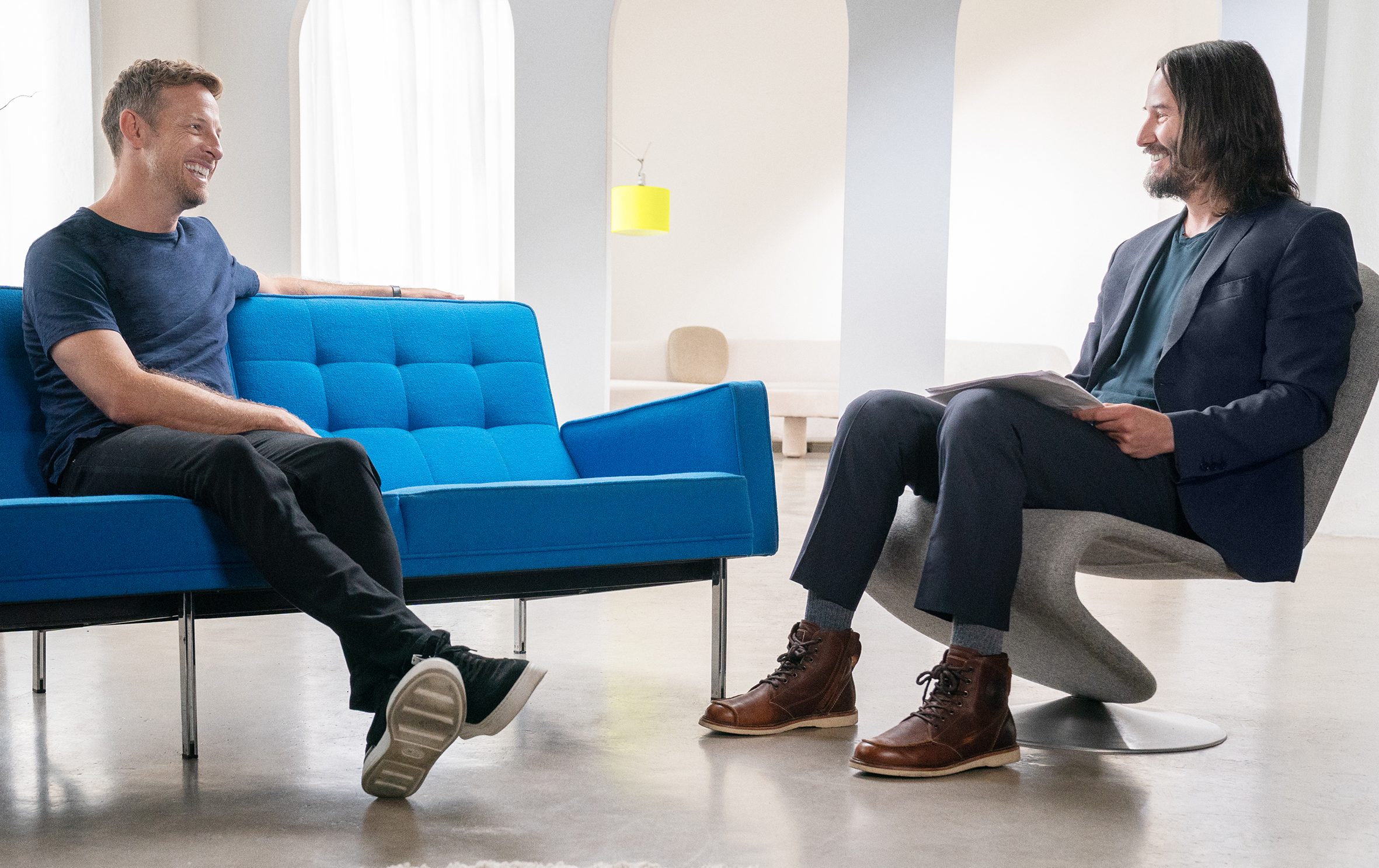 Online edit
Picture Shop Online Editor, Stef Henley completed the UHD HDR Dolby Vision online using Autodesk Flame with Online Assistants Max Marshall and Richard Nicholson.
The archive was such an integral part of the story telling process. Close attention to detail was spent in the pre-grade online through restoring the archive and losing unwanted compression artefacts that could distract the viewer from the compelling story.
The online and grade worked very closely together alongside Hammerson to give the archive a distinct filmic look using textures and overlays that would sit in seamlessly amongst UHD HDR footage.
For some scenes, Henley heavily degraded beautiful UHD footage of Jenson Button and Ross Brawn to embed them amongst some very low-quality sourced archive scenes. Hammerson's idea behind integrating them was to make the audience feel like they were watching a scene from 2009, which uses a visual transition from the archive effect build applied to glorious UHD HDR to set up the following scene as present day.
Interview set-ups were cleaned up in the online for a minimalistic and clean feel, with an aim to draw subtle attention to the Brawn colours placed into the set for a continuity of colour and branding.
Henley created a high energy type-on and glitchy transition effect for the radio com subtitling that felt immersive and kept up with the intensity of the race. The right font was carefully selected to feel fast and relevant with its colour sampled directly from the side of the Brawn F1 race car.
Picture Shop was the perfect partner for us to handle all our post requirements. Their incredibly talented team are well organised and managed, helping us to beautifully finish the show on time and budget.

Alex was incredibly patient and detailed in his approach; he did a beautiful job with colour.

The work Stef performed was magic. He brought some questionable, average archive to life giving it more quality feel than we could've hoped for.

Steve was nothing short of exceptional throughout the entire post process. He took ownership of the series and was so much more than an audio mixer. No task was ever too big, it was never too late and he always made it happen! And there were some sizable tasks – 11th hour music changes which Steve took in his stride and made work beautifully. Without him, we would've really struggled to get the feel we needed.

Simon Hammerson, Showrunner of Brawn: The Impossible Formula 1 Story
Watch the trailer for Brawn: The Impossible Formula 1 Story below.
An inside look at The Haunted Mansion with DNEG
DNEG's VFX Supervisor Sebastian Von Overheidt takes us through the studio's work on Disney's supernatural horror comedy film.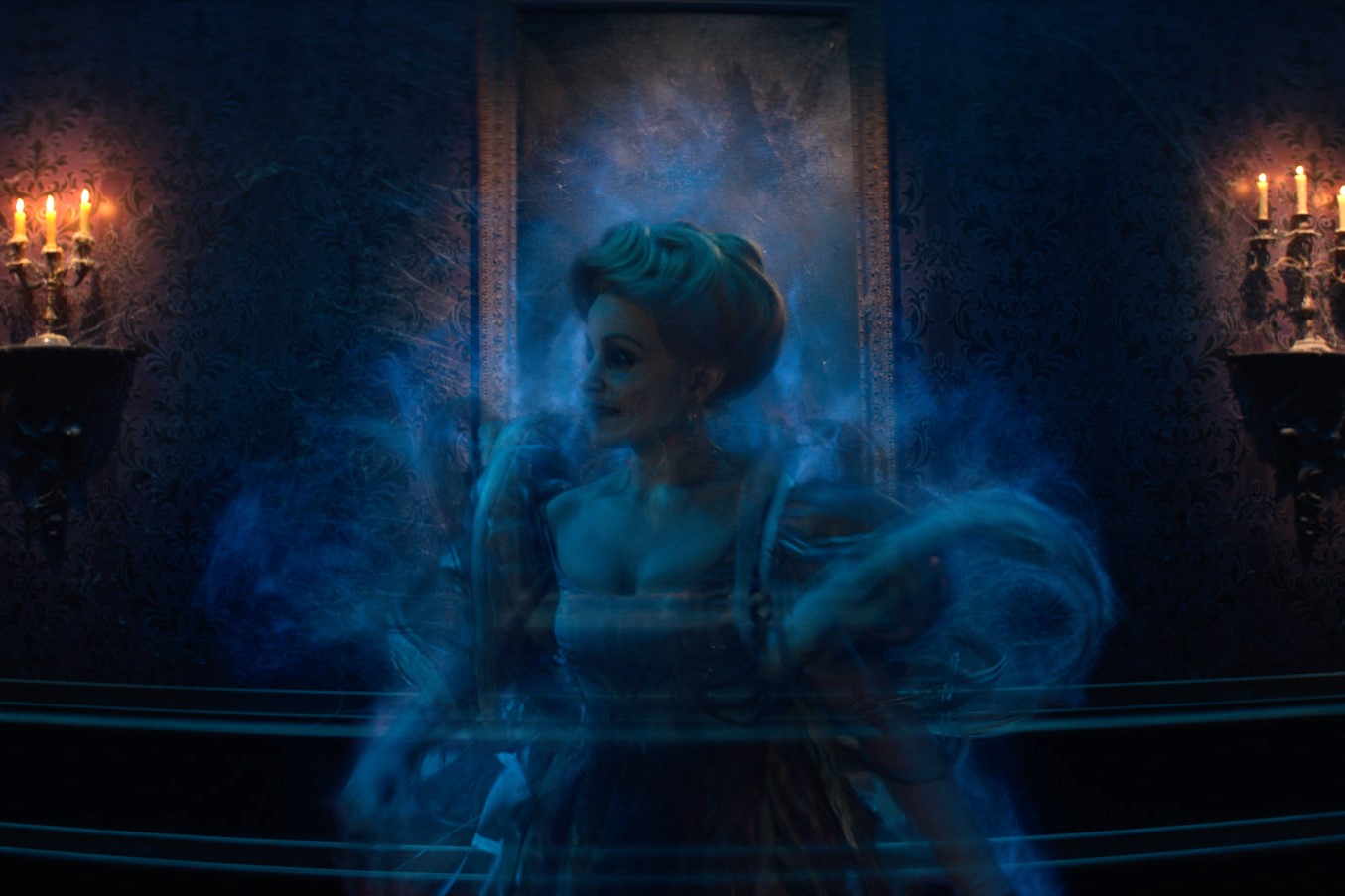 What scenes were DNEG responsible for? How many shots did you complete and how did you achieve them?
DNEG was responsible for the majority of work inside the mansion, including bringing to life Madame Leota in her crystal ball, developing the Hatbox Ghost from concept all the way through to the final asset, and creating the ghost effects that are seen throughout the movie. In total, DNEG delivered close to 600 VFX shots.
In our approach, we created multiple full CG environments inside the mansion like the 'Stretching Room', which transitions from a cosy living room into a lethal trap with an alligator pit, quicksand, stacks of dynamite barrels and a deep chasm. The 'Endless Hallway' was another environment that we built, with all its ghosts being developed by DNEG as well. Working on Haunted Mansion was an exciting creative challenge. Disney movies have a long tradition of storytelling and colourful visuals. Being creative partners for the visual effects of this movie, we had to find and apply that to each shot. Director Justin Simien and the producers showed great instincts to capture the essence of the famous theme park attraction.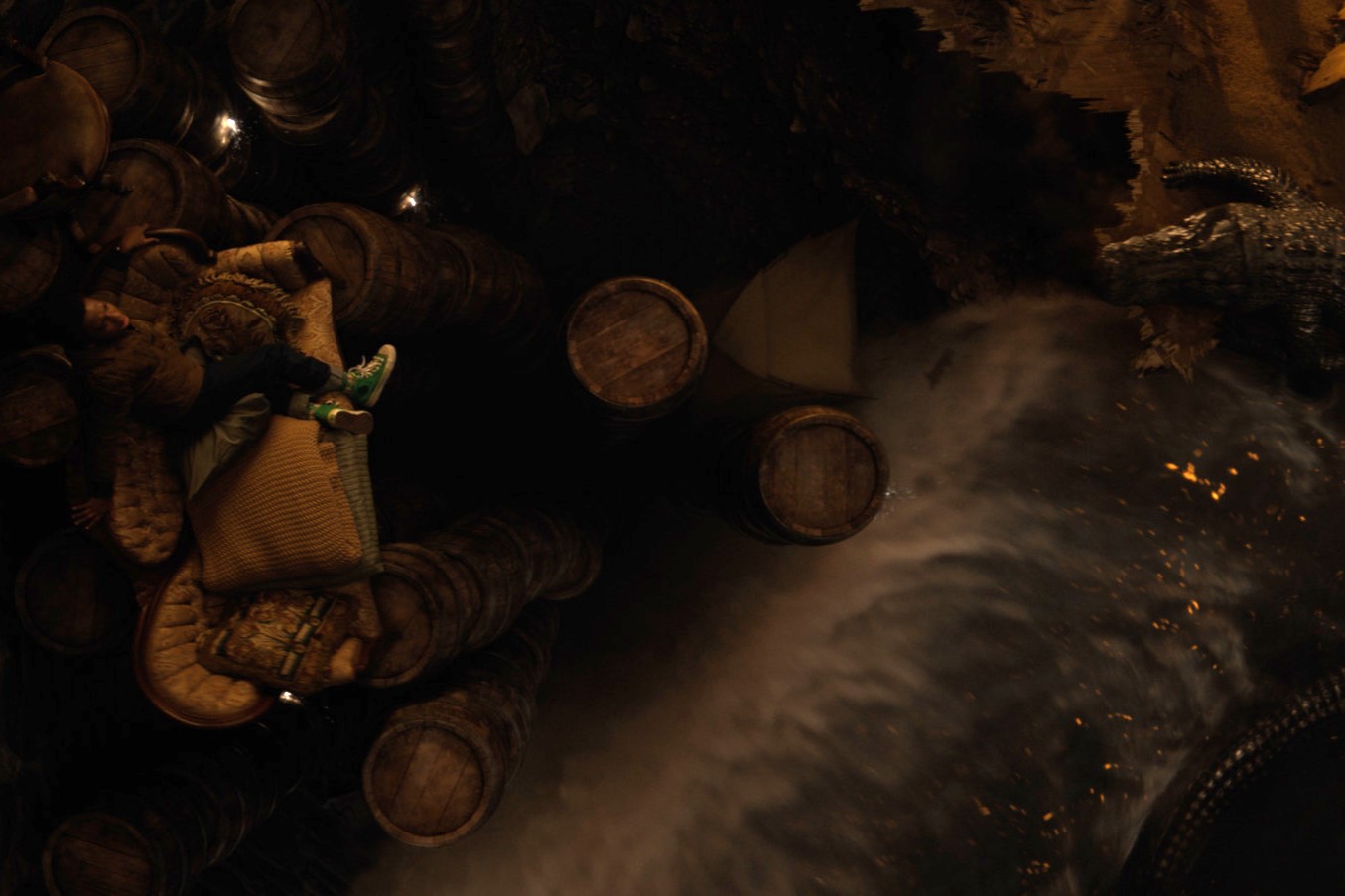 What was the biggest challenge of the process? What was the most difficult VFX sequence in this project?
The biggest challenge for the team was that we were developing and delivering high-quality characters and shots while the filmmakers were finalizing the story and cut. DNEG had been in post-production for around 16 months, providing a strong creative partnership. There needs to be focus and attention on all shots – even if they don't end up in the movie, it is an important part of the process.
The 'Stretching Room' had the most moving parts, with its multiple elements of moving walls and lethal traps, talking paintings, and CG alligators. All the animation in that sequence is choreographed to lead our characters Ben and Travis along a specific path.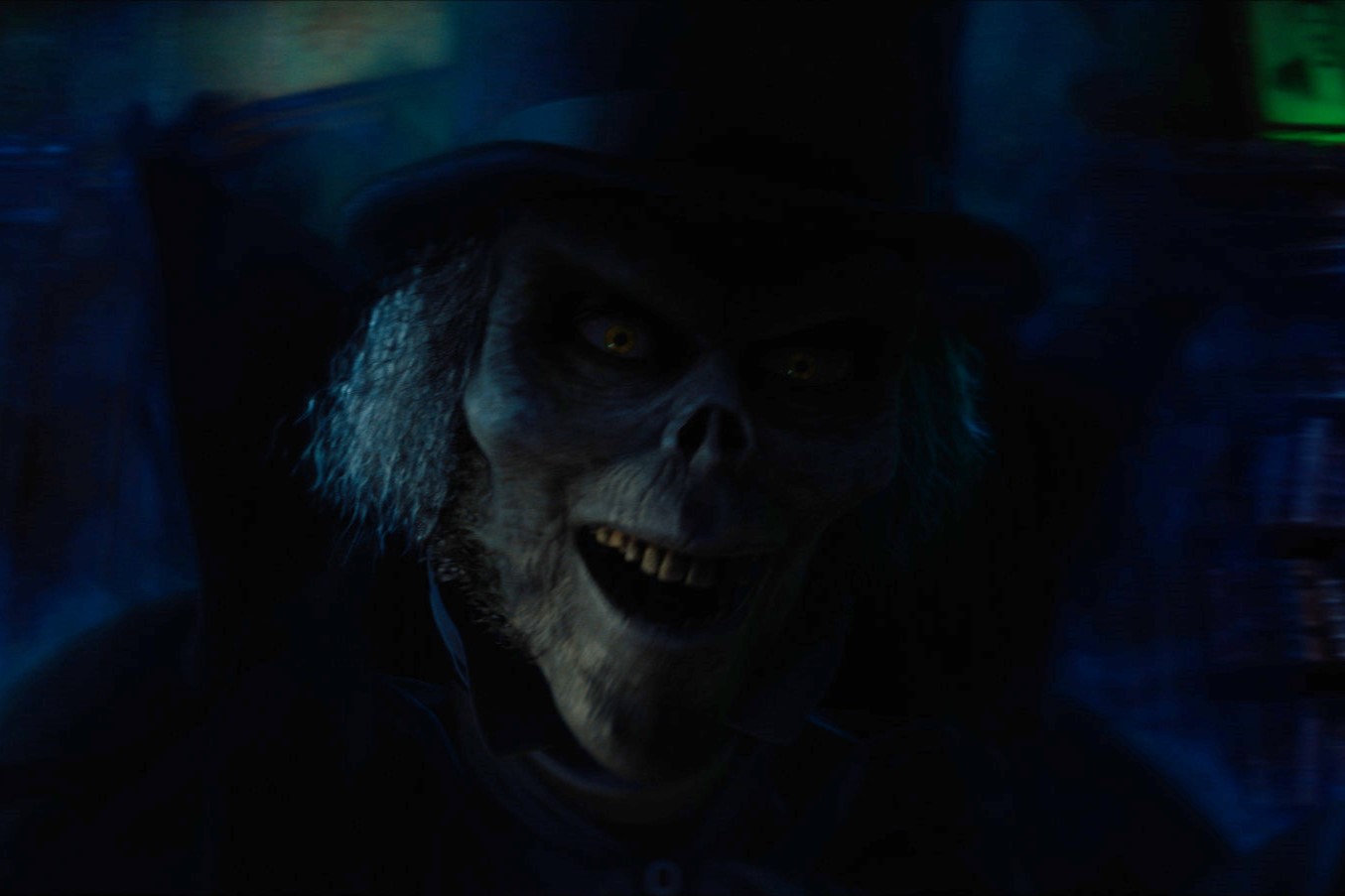 Were there any particular pieces of instruction that stood out to you when achieving the VFX style?
Right from the beginning, we understood that the show would have a more grounded vibe to it, with many of the sets being built on sound stages and a lot of the ghosts actually being performed by real actors in their costumes on set. Everything we created or augmented had to fit into that look.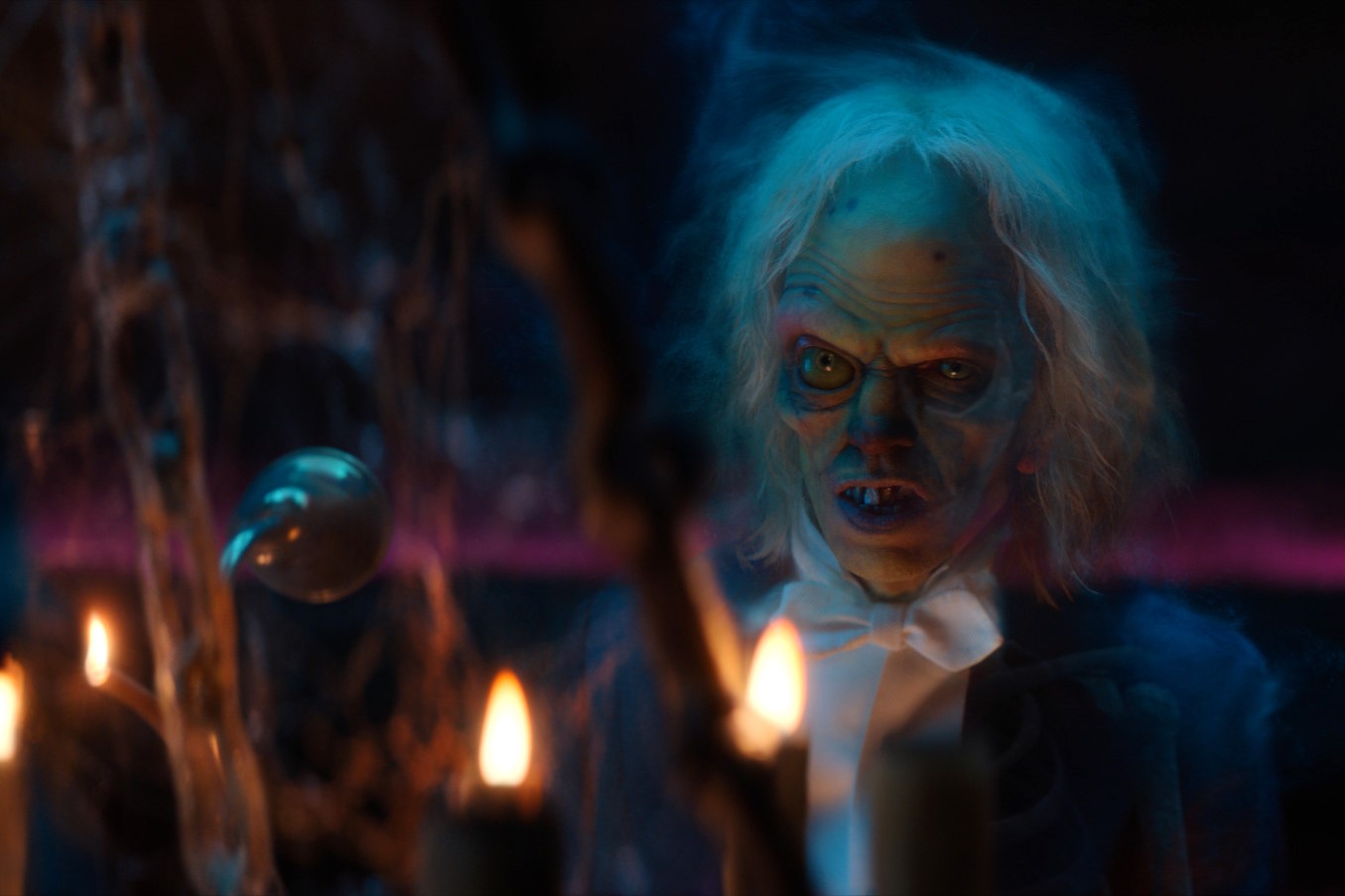 Were there any other visual inspirations for the project?
When we developed the look and feel of the ghosts, we added an effect we called 'ectoplasmic effervescence' to them. For inspiration, we looked at bioluminescent algae which don't light up when undisturbed, but when you swim through for example, it creates this bioluminescent trail.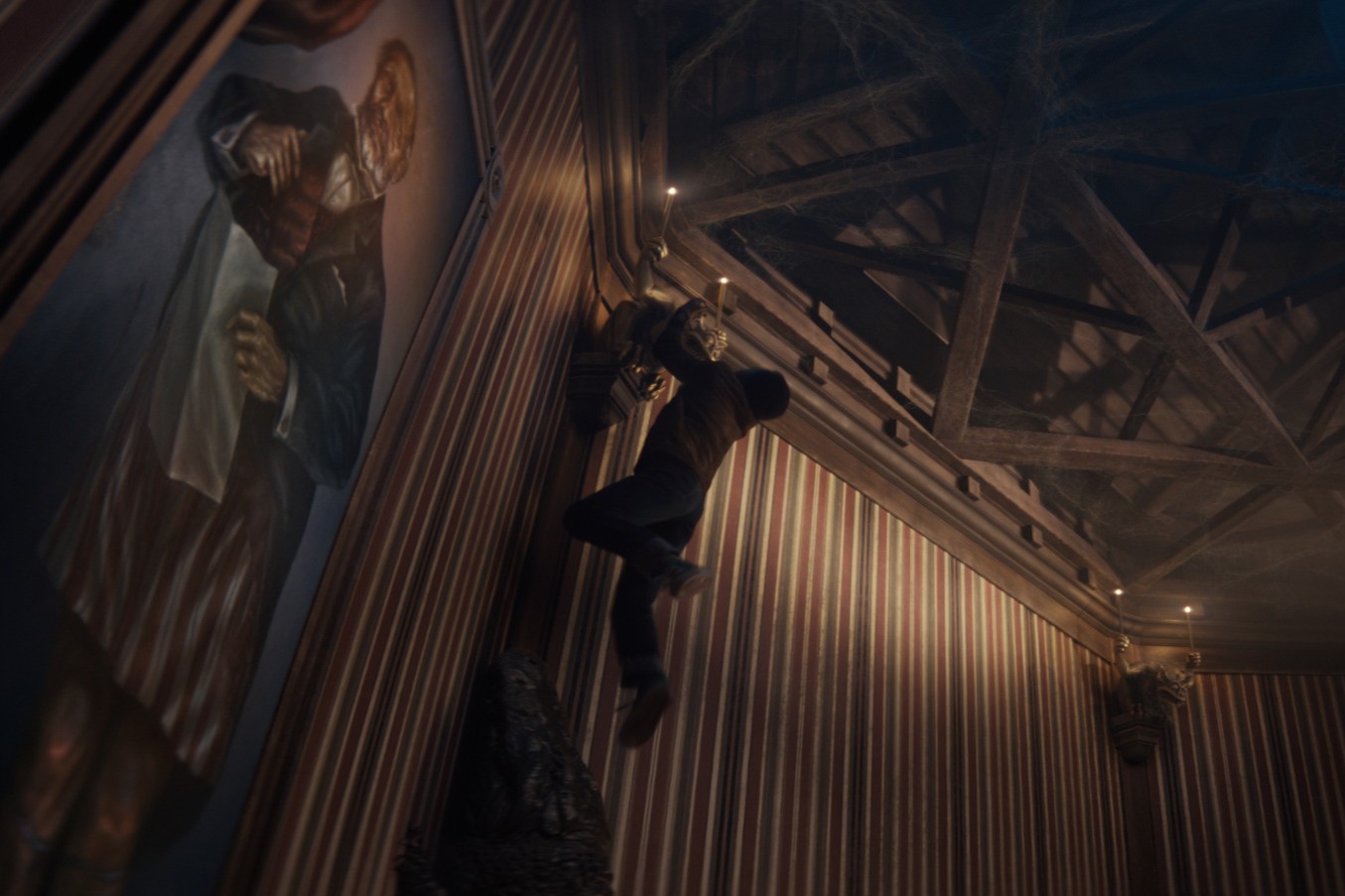 How did your approach differ from other DNEG projects you've worked on?
DNEG is known for its great work, especially digital environments, which are something we've created photo-realistically on a large scale many times. This show was a little different in the way that some of  the environments became characters on their own. The 'Endless Hallway' for example, had many moving parts and a complex rig that needed to be animated, extended, stretched, mirrored, folded and so on. The 'Stretching Room' was even more complex with its elements of danger that required simulations, in addition to the room configuration changing.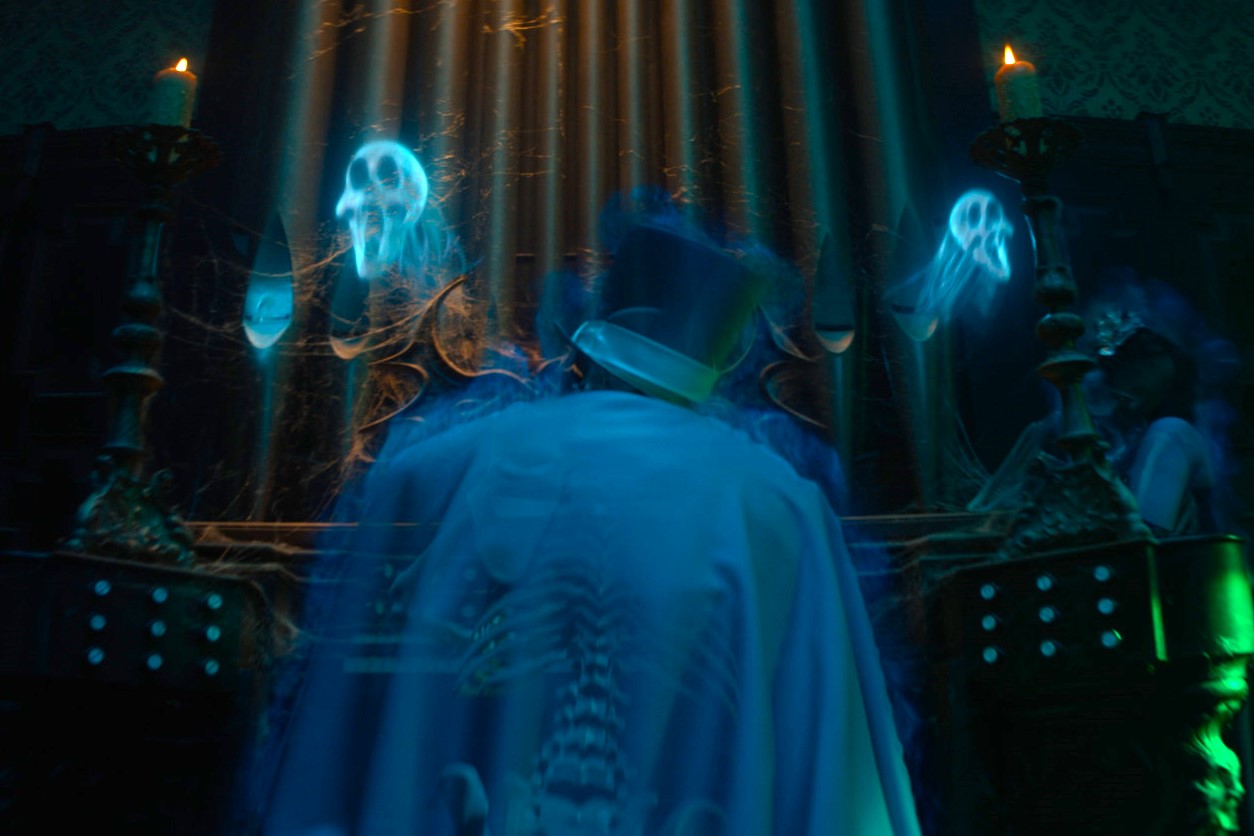 What is your favourite piece of VFX in this project?
I think the team did a great job of delivering consistent work. If I had to pick, the ghost which hides in the candle was my favourite because it's just too cute when it tries to blow out its own flame. I'm also proud of our interpretation of Madame Leota and how well the digital asset captured Jamie Lee Curtis' performance.
Wacom joins UK Screen Alliance as official supporter to drive creative innovation and technology in the film, TV, animation, post and VFX industries
Wacom, the pioneer and leading innovator of digital pen technology, is excited to announce its official partnership with UK Screen Alliance and its partner organisation Animation UK, as an official supporter.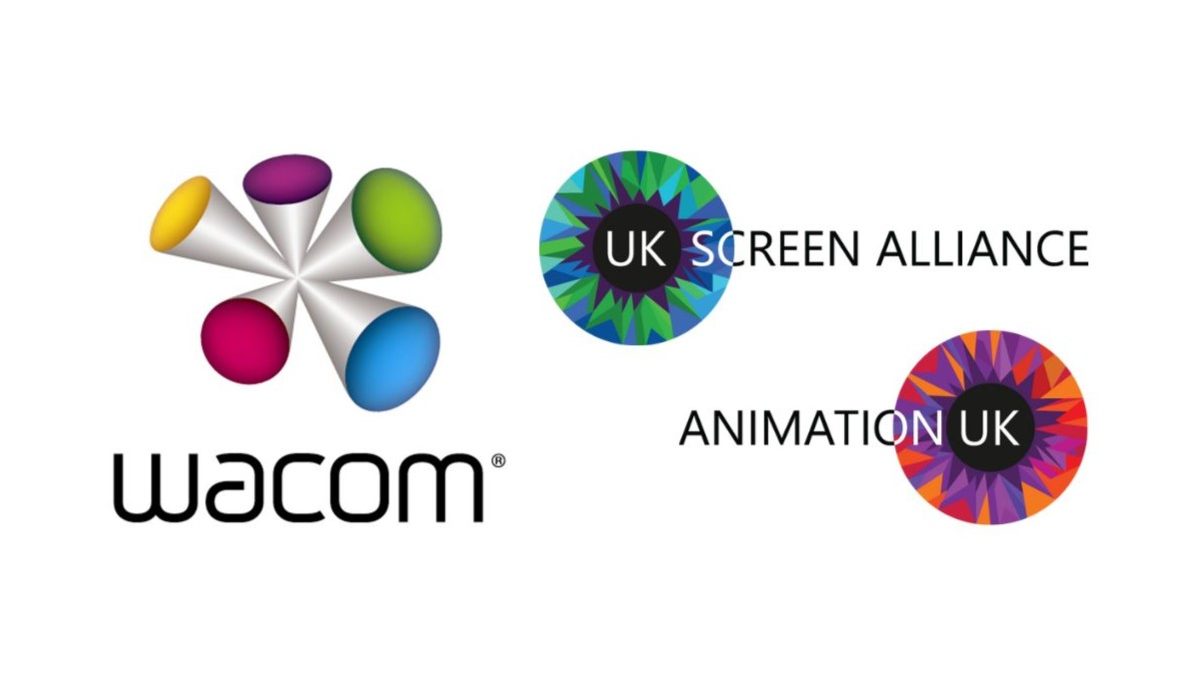 The UK Screen Alliance is an influential advocate of the industry representing over 170 companies across the UK in post-production, VFX, animation, TV and film studios and production services, with the aim to grow recognition and drive innovation for these sectors. This aligns seamlessly with Wacom's commitment to empowering creative professionals to improve both artistic expression and production efficiency through technological advancement.
Our partnership with the UK Screen Alliance underscores our commitment to the creative community and to provide professionals with the tools and support they need to push the boundaries of what is possible in film and VFX. We are looking forward to play an active role in the alliance, share the latest technology and gain insights necessary to develop even better tools to drive the future of storytelling.

Peter Sommer, Senior Vice President of Wacom's Branded Business in EMEA
As a key supplier to our sectors, we warmly welcome our new partnership with Wacom. We admire their ongoing commitment to encourage new talent into the industry and we look forward to working with them, as we call for universities to join UK Screen Alliance in our newly launched education branch.

Neil Hatton, CEO of UK Screen Alliance
For more than 40 years, artists and designers around the globe are relying on Wacom technology to create amazing work. From storyboarding to post-production, world-renowned animators, game developers and 3D sculptors turn to Wacom pen tablets and displays to create the characters, creatures, special effects and worlds in the games and movies that fans adore. Wacom's sole focus is on developing solutions that help artists and studios make the world a more creative place.
For more information about Wacom and its range of digital pen solutions for creative professionals, visit wacom.com.
UK Screen Alliance welcomes Chancellor's commitment to give further incentives for the UK's VFX industry
In the Autumn Statement, the Chancellor of the Exchequer announced that the Government will provide additional tax relief for expenditure on visual effects, to boost the international competitiveness of the UK's incentive.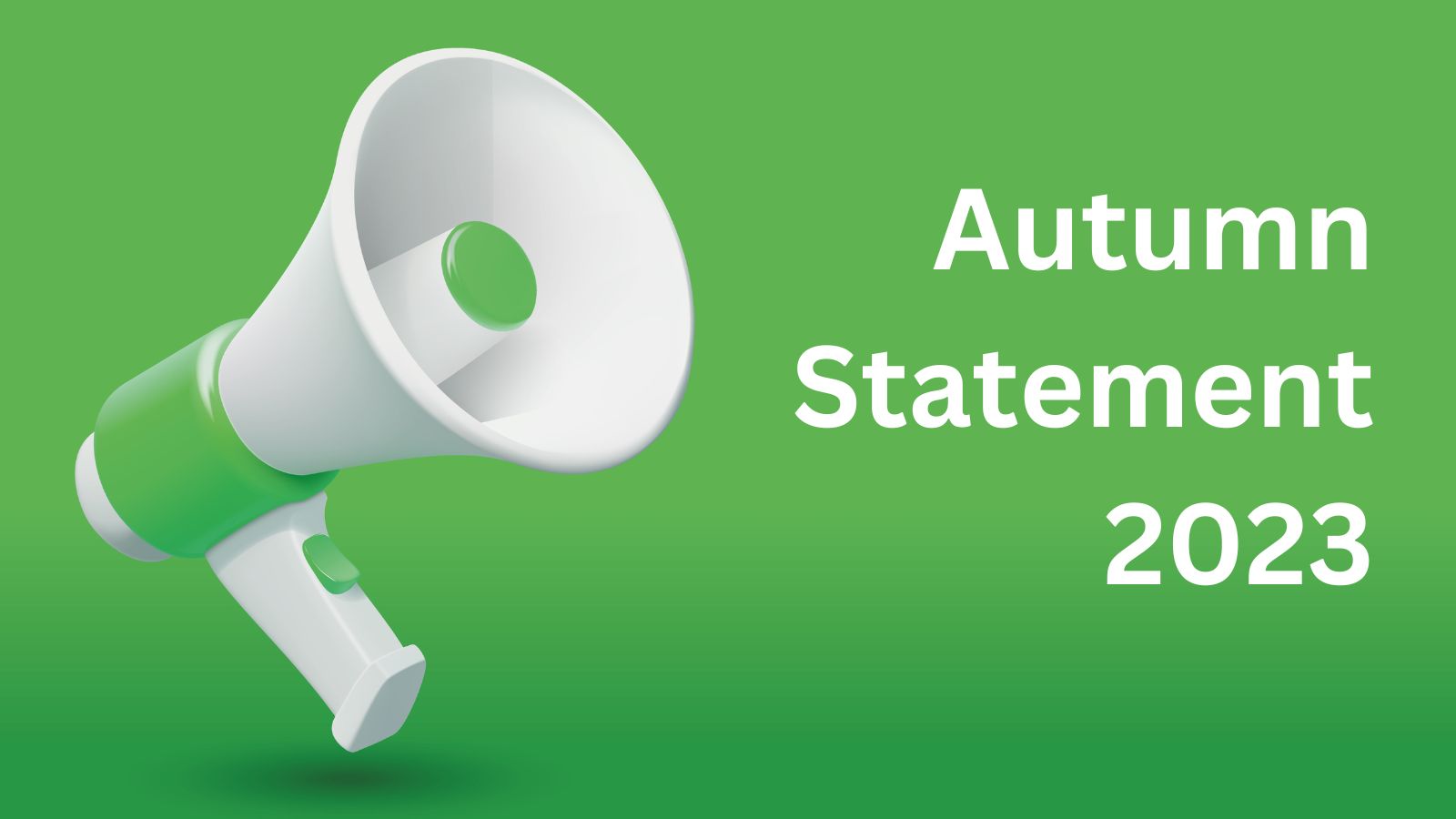 UK Screen Alliance welcomes the announcements in today's (22 November) Autumn Statement by Jeremy Hunt, the Chancellor of the Exchequer, to provide additional tax relief for expenditure on visual effects, to boost the international competitiveness of the UK's incentive. The Treasury has issued a call for evidence to inform the development of detailed proposals.
The Chancellor says in the foreword to the consultation document published today:
I can confirm that we will provide more additional tax relief for expenditure on visual effects, to boost the international competitiveness of the UK's offer. This call for evidence takes the first, crucial step towards this, as it will provide the Government with the depth of understanding it needs to develop targeted proposals that best serve the needs of the visual effects industry.

Jeremy Hunt, Chancellor of the Exchequer
The UK Screen Alliance has long campaigned for reform to the UK's screen sector tax credits, as the way they are structured disadvantages VFX. The UK has world-class award-winning talent in this sector, but investment in the UK has stagnated, while other territories have increased the attractiveness of their incentive programmes.
When the UK's screen sector tax reliefs were designed in 2007, the UK was bound by an EU restriction, which stipulated that tax relief should have a territorial cap. Productions receive 25% relief on their UK production expenditure, but once that spend exceeds 80% of their global production budget, there is no further relief in the UK. The unintended consequence of this is that VFX work, which is not tied to where filming takes place, and is therefore the most 'portable' part of the budget, can easily be moved outside of the UK to a jurisdiction that will make tax relief available. An analysis of UK production between 2017 and 2019, reveals that £1bn of VFX expenditure on projects qualifying for UK tax relief was carried out overseas – this is approximately half of all VFX work carried out on UK-qualified productions in that time period.
Very often clients will say, 'We love your creativity, your innovation and reliability to deliver. We love your people and we love working in the UK, but your VFX incentive doesn't meet what is available elsewhere in the world'. Either that or, 'We are capped out'. This consultation and the promise of a more competitive incentive, announced today should aim to position the UK as the first choice destination for VFX production for international film and TV. We are focused on capturing a larger market share as global demand for VFX recovers, following the US actors' strike, and we aim to play a full part in growing the UK's Creative Industries towards the Government's 2030 targets.

Neil Hatton, CEO of UK Screen Alliance
The Government's stated aim is to grow the Creative Industries by a further £50 billion in GVA adding one million new jobs by 2030.
Read the full Autumn Statement here and the Call for Evidence on the UK Visual Effects Sector here. Watch the Autumn statement below.
Joe Cochrane joins TVC Soho as Head of Sound
Post facility TVC Soho welcomes renowned Re-recording Mixer Joe Cochrane as Head of Sound.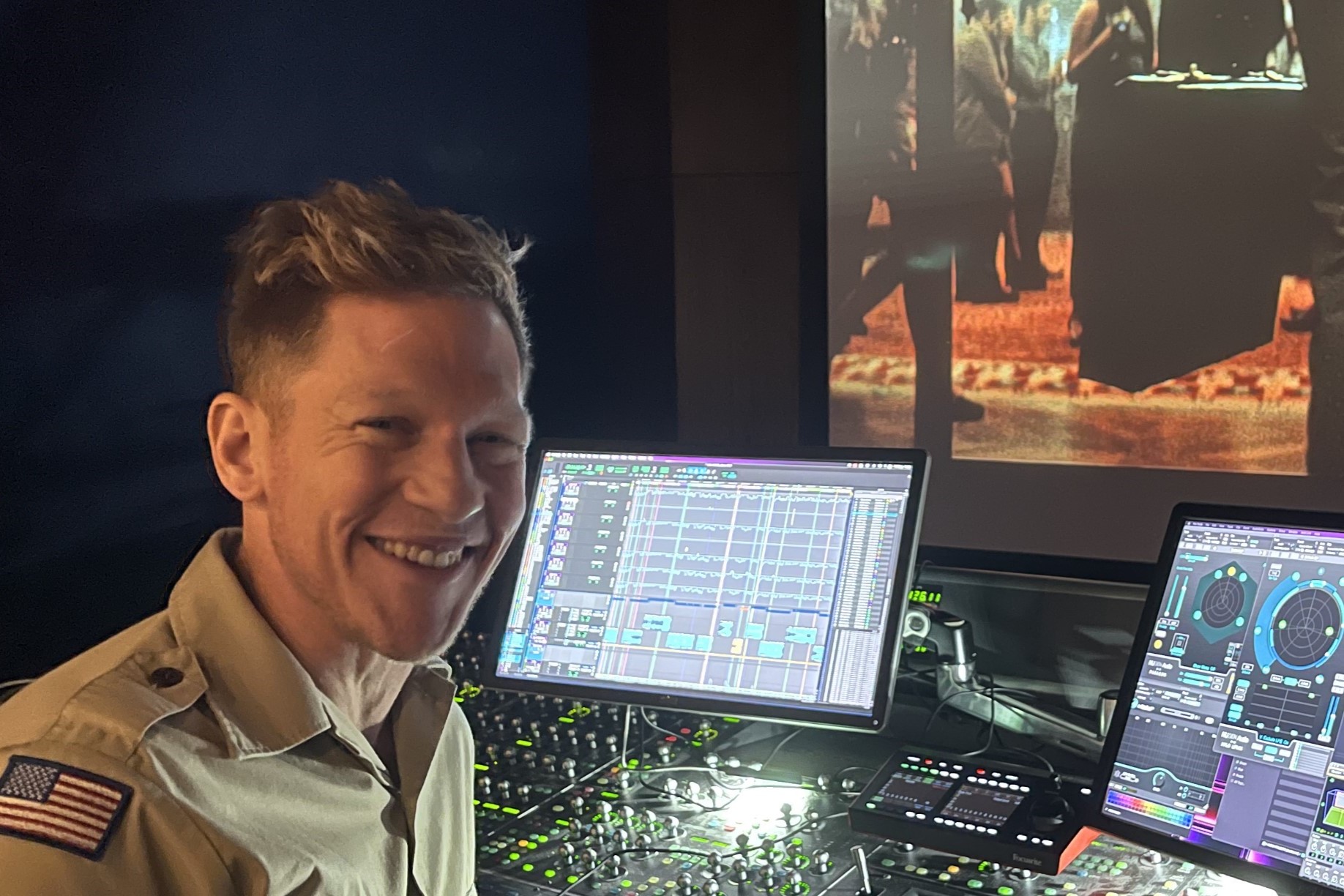 Cochrane has established himself as a highly regarded dubbing mixer, having worked on multiple high end projects for a variety of broadcasters and streamers, including the Emmy award winning 911: One Day In America (Nat Geo), Running with the Devil: The Wild World of John McAfee (Netflix) and Here We Go (BBC Studios), for which he won the "Excellence In Audio Post-Production, Scripted" at the Broadcast Tech Innovation Awards 2022.
We are extremely pleased to be welcoming Joe to the team. He's not just a huge talent, he also brings great client facing skills and a positive energy, all very much what TVC is about.

Marc Collins, Managing Director of TVC Soho
With his experience of mixing for the biggest broadcasters and streamers in both 5.1 and Atmos, Joe's skills will complement our current and upcoming projects perfectly.

Simon Ward, Facilities Director at TVC Soho
I am delighted to be joining the team at TVC, who have completed many of the shows I have enjoyed in recent years, it's exciting to be joining such a talented team and I'm looking forward to further developing the audio department, and getting started on the excellent work we have coming up.

Joe Cochrane, Head of Sound at TVC Soho
Recent work carried out by TVC Soho, includes The Royal Mob (SKY/History), African Queens (Netflix), Planet Sex (BBC/Hulu) and Colosseum (Discovery).


Fatal error: Uncaught Error: Call to undefined function twentynineteen_the_posts_navigation() in /home/forge/www.ukscreenalliance.co.uk/public/wp-content/themes/ukscreen/archive.php:41 Stack trace: #0 /home/forge/www.ukscreenalliance.co.uk/public/wp-includes/template-loader.php(106): include() #1 /home/forge/www.ukscreenalliance.co.uk/public/wp-blog-header.php(19): require_once('/home/forge/www...') #2 /home/forge/www.ukscreenalliance.co.uk/public/index.php(17): require('/home/forge/www...') #3 {main} thrown in /home/forge/www.ukscreenalliance.co.uk/public/wp-content/themes/ukscreen/archive.php on line 41