Kong Studio was commissioned by Mattel / Fisher Price to produce a series of animated Thomas & Friends themed nursery rhymes for YouTube.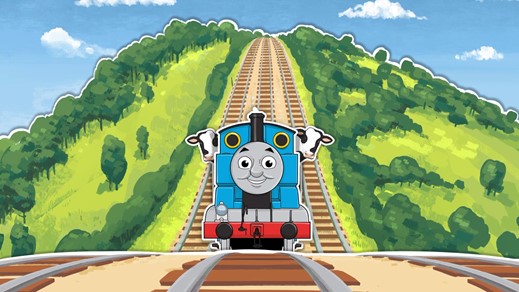 When Ian McCue of Mattel approached Kong Studio in 2020 to create another motion comic YouTube series for Thomas & Friends, the team were keen to engage in the project, having worked with Thomas & Friends in previous years. McCue offered the London-based animation studio the opportunity to develop a series of train-themed nursery rhymes, to be aired on the popular online video sharing and social media platform.
No stranger to this kind of brief, Kong previously developed three online series using a motion comic technique (bringing together aspects of print comic books and animation), initially developed in partnership with DC Comics in 2016.
With Thomas & Friends, the team were able to reimagine the brand in a new visual style, as Kong's latest production displays a more painterly and illustrative design, though still brought to life as an animated comic. Aiming to provide a new perspective on the classic rhymes, Kong employed techniques such as the addition of a 3D animation storybook opening at the start to help set the scene for Thomas & Friends.
"Kong Studio was born off the back of a Thomas & Friends web series commission, so it's always a pleasure to collaborate on any new Sodor projects with Ian McCue and Mattel. One of the joys of Thomas & Friends is that it's a rare example of a famous brand that is open to new takes on the established theme. We have taken the Sodor engines on illustrative adventures around the world, had Thomas play Australian rules football, even fought crime as a superhero in Gotham city! This time we developed the nursery rhymes as a painterly pop-up book. The result looks (and of course, sounds!) fantastic."

Bill Elliott, Kong Co-founder
"When the opportunity to create some visuals for a selection of Thomas & Friends Nursery Rhymes arose, I immediately knew I wanted to work with Kong studios. Bill Elliott and I worked together many times before, and he once shared a small pop-up book test with me. That small test would become the inspiration for the Nursery Rhymes' visual look.

As always, we had to find clever ways to work within a tight schedule and with a small budget. The initial pre-production is part of the process where Kong Studios excel. They have the experience and understanding of what can and can't be done. They will always push hard and give you the best result within any constraints.

Ian McCue, Creative Producer for Thomas and Friends
The Thomas & Friends Nursery Rhymes videos can be viewed on YouTube here.
KONG CREDITS
Story & Creative Director – Bill Elliott
Art Direction – Tom Baker
Character and Environment Artist – Rob Smith
Technical Director and Compositing – Daniele Baiardini
Compositing – Neil Jack
3D Modelling & Animation – Stephen MacFarlane
Production Assistant – Michaela Kotsovos
Produced by Emma Burch
Find out more about KONG Studio here: kong-studio.com/