The animated spot is Kong Studio's third Collaboration with IMAX for the upcoming release of Star Wars: The Rise of Skywalker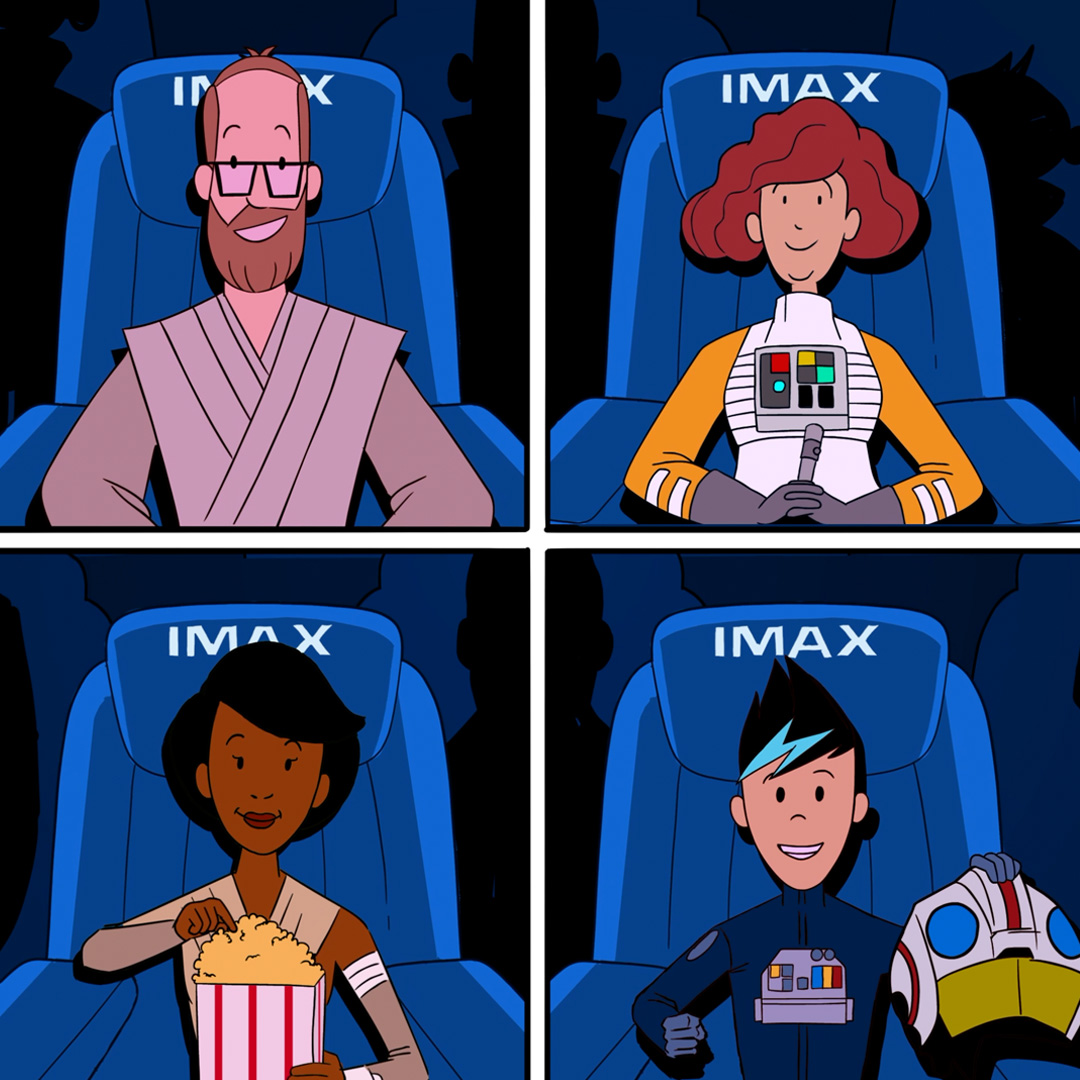 Kong Studio has delivered its third collaboration with IMAX, this time creating a digital animation spot to support the IMAX release of Stars Wars: The Rise of Skywalker.
The purpose of the spot was to make the most of the 'fear-of-missing-out' (FOMO) that people get when long awaited tickets are released. Kong Studios created the animated piece to be suitably epic to match the Star Wars: The Rise of Skywalker film, as the final chapter of a blockbuster saga spanning generations, and the culmination of the Star Wars films 42 years in the making.
"A key factor in our collaborations with IMAX is our great relationship. We were asked to pitch an idea, as opposed to our take on an existing concept. This opened doors for us both creatively and narratively. We love opportunities to be involved from script to screen."

Bill Elliott, Kong Co-Founder
Kong came up with an ambitious idea that would show a diverse range of Star Wars fans, and illustrate what it means to the fans to get their hands-on IMAX tickets for the film, across a split screen. Using fans as the focus and visual language for the saga averted the need for showing Star Wars characters, adding to the sense of relatability for the spot's target audience.
Aware of the difficulties of using a split screen device on such a short commercial, Kong opted for a clean infographic and illustrative look, with strong black lines with a gentle nod to the genius of Chris Ware.
"I am thrilled with the final piece. It is another striking piece of traditional animation from Kong, whilst offering a new and unique style to the studio's portfolio. It's also another exciting collaboration with IMAX on a global franchise. More importantly, we got to draw a X-wing."

Bill Elliott, Kong Co-Founder
Comic-panel style of Kong Studios' animated spot.

Still from the spot, images courtesy of Kong Studios.
The latest IMAX spot was produced in collaboration with IMAX from Kong's East London studio within Yonder, with sound design again epically delivered by Father Ltd. The piece was traditionally animated using Adobe Animate and composited in After Effects, and the finished film was versioned in 10 languages for distribution across IMAX's global social media platforms.
Kong and IMAX's first collaboration was on Solo: A Star Wars Story, and highlighted how generations after generations have enjoyed the Star Wars franchise. Their second collaboration was for Shazam! and depicted how the cinema audience experience is transformed by watching films in IMAX theatres.
"I grew up besotted with the world of Star Wars, and spent my childhood taking a pilgrimage to my local comic book shop at every conceivable opportunity. So, for Kong have the opportunity to partner with IMAX to create an accompanying piece to 'Solo: A Star Wars Story' was an utter joy. For Kong then to be asked to create a piece of animation that pays homage to the beautiful half-tone quality of comic book art, for the purpose of supporting the IMAX film release of a classic DC title is a dream come true. SHAZAM!"

Bill Elliott, Kong Co-Founder
Watch the TV spot on kong-studio.com, and below:
Kong Studio Credits:
Creative Director: Bill Elliott
Art Director: Tom Baker
Producer: Emma Burch
Character / Background Designer: Javier Castillo
Animators: Harriet Gillian, Christina Nerland
Mastering: Trevor Phillips
Sound Design: Father Ltd